JANUARY 1999
This was a rather busy weekend, as my oldest son has been here visiting from Oklahoma. My friend Dennis also had a son visiting on the island so the four of us found a few things to do together.
The first day we hiked to the Makapuu lighthouse in the morning and then went sailing in Kaneohe Bay in the afternoon. The next day we chartered a fishing boat for the day and fished off the south and west sides of Oahu. Here are a few snapshots of the weekend.
This is the gang, about 1/3 of the way to the lighthouse. They are (L-R) Michael, Dennis, and Brian (Dennis' son). In the background is Makapuu beach and Sea Life Park.
Here's a shot of the lighthouse, looking down from the lookout. I know there is another picture of the lighthouse somewhere else on my page, but this is such a pretty area that it merited another image!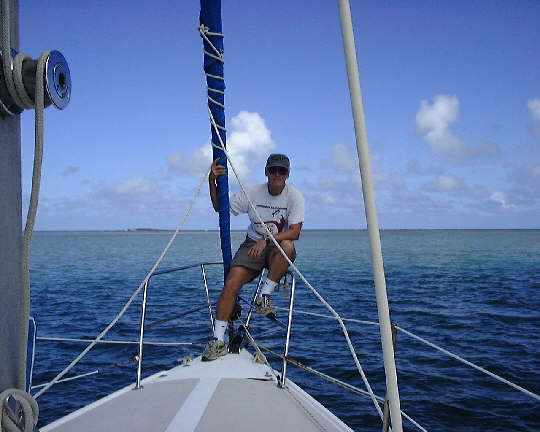 Here we are anchored at the sand bar and one of the guys snapped my picture sitting on the pulpit. The weather this weekend was just perfect!
Michael shows off a lure while we troll around about eight miles off the southwest point of Oahu. We had five lines out all the time and, at one point, all five hit at once! We were in a school of tuna and they were hungry!
Catch of the day! Tuna (Ahi) and Skipjack! We took three of the tuna and the crew got to keep the rest.
1/18/99