Italy '97
---
9/4/97 3:10pm First entry. All checked in at HNL. Have a one hour wait for departure now. Checked 4 bags and are carrying 5 small bags. CK & Hurley took us to airport and will pick us up on 28th. Next stop --- Chicago!
9/5 5:30am At ORD now. Flight was smooth and time went by fairly quickly. Now waiting for 6:30 flight to EWR.
9/8 3:45pm Finally checked in at JFK. Traffic was very bad on the way - it took us one hour, 40 minutes, to get to the airport. Without the traffic jam, an hour probably would have done it. While checking in, we got a page from Mom. Teddie was very worried that something bad had happened but it was just a message from Alberto telling us to turn left out of customs and look for Stefano. Now we wait two hours for departure.
9/9 7:00am Now at Heathrow in London awaiting flight to Rome in 55 minutes. Heathrow airport is a mess - construction all over the place, long narrow hallways to navigate, small holding areas for passengers. We had to leave the secure area and then re-enter to get on the next plane. Were it not for a significant savings in the price of the ticket, I would never recommend a plane change in London. Many duty free shops - would not hand check my camera - clear skies. Quite tired but hanging in there. Will be on ground in Rome in less than 4 hours now!!
8:50pm When we arrived at airport in Rome, there were several long lines into Passport Control but none were moving. Then they opened another line for US passport holders and let many of us through with nothing more than a cursory check of passports. Stefano and his girlfriend, Viviana, were waiting for us, and I didn't recognize him at first because he had cut his hair short. Then we found Peppone who had also come out to greet us. Stefano and Viviana then drove us to the hotel and left. They are both very nice young people! We napped for a while and then ventured out and ate pizza where the girl at the counter was very pleasant. On the walk around the area we laughed at one young girl with very short shorts. Even the Italian men we would pass on the street were
making comments about her. We couldn't understand them, but you could tell by the direction of their glances and their laughter. This evening Peppone called and will arrange for us to meet for dinner on Thursday. He will contact Stefano and Moreno to see if they can be there. Alberto called promptly at 9:00. It was a nice chat and he told me that Stefano is available for any help if we need him.
9/10/97 Busy day today. Continental breakfast at hotel. Walked to Coloseum - small shops, lots of traffic - many mopeds - fast drivers, but no accidents. Coloseum was very interesting. I found the labyrinth of passages in the area that used to be below the floor especially interesting. The literature said that this is where they kept the animals and other participants for their "games". Looking over the arena area, it was difficult to imagine how many people had perished at that very spot in the past in the name of entertainment! Literature indicates that during one series of events over 5,000 animals were killed. Police with machineguns in street - stopped us as we walked down the sidewalk while car and truck backed out of the bank building. Then all sped away! Walked all through ancient part of city - L12,000 admission (rate of exchange is about 1750 Lira to one American dollar). Very hot today!! Took about ˝ hour video and around 10 stills. Returned to hotel around 4pm - maps are hard to read/understand. Had
sandwich and coke for lunch. Also, bought 2 cokes at Coloseum for L10,000. Air conditioning in room feels good now. Mailed post cards this AM. Am very glad I did not rent a car. I had originally planned to rent a car immediately upon arrival but was talked out of it by Alberto. It's very good I was; parking in Rome is difficult and driving would have been impossible! Even crossing the street in Rome proved to be a challenge. Unlike the states where cars will stop for a pedestrian approaching a crosswalk, cars in Rome just continue and it becomes necessary to actually step out in front of a car to get it to stop. It definitely takes a certain measure of faith that I'm not sure I possess. Thought a
moped would be fun but would probably be too dangerous for me right now. There are thousands of them - big chains and locks on all of them. Theft must be a big problem. Also, as Alberto said, no cars have radios! They are a very hot theft item!
9/11/97 9:00am Just back from breakfast and getting ready for the day. The hotel offers a pleasant continental breakfast consisting of rolls and coffee (and warm milk for the coffee). Last night Stefano called - he will be coming by at 10am and will be our tour guide and interpreter for the day. After he called, Alberto checked in to see how we were doing. Then Peppone called to make dinner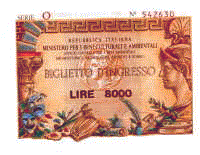 arrangements. He will come by at 7:45 this evening and we will all go out to eat. These people are being so hospitable that it would be very difficult to ever repay them. I wish I could think of a way. Today we plan to work our way over to the Vatican, visiting several interesting sites along the way. I don't know how long Stefano will be able to stay with us but hope it will be a considerable time.
(yesterday) Pakistanis with silly umbrella hats - tour groups - lots of Germans - expensive cokes (2/L10,000) - hot - hot - hot!!
5:05pm Stefano came by at 10:00am and off we went! We walked for a while and then we caught the subway. People everywhere!!
Many cars and scooters, much traffic! Went to the "Spanish Steps" but could not get on because they were filming a fashion show. So instead we fought the dense crowds that had gathered in front and prayed that the pickpockets did not rob us as we pushed our way through to get a better view. Trevi fountain - threw coins - many people there, all throwing coins and taking pictures. Pantheon - huge! Walked around inside and out. We could see the margins between the areas that had been restored, and those that had not. The colors were brighter and the painting more vivid in the restored parts. Mussolini's Villa (in park). Villa Borghese - Stefano left glasses and ran back to retrieve them. He was quite upset when he discovered he had
left them at the statue and I was about to suggest I buy him another pair when he handed me his bag and ran off down the street. Later he would tell me that they were a present from Viviana and it would be very bad if he lost them. We were very glad that he was able to find them where he had put them down. At 3:30 we met Viviana and toured a park. They dropped us off at the hotel before 5:00 and will be back at 7:20 to take us to meet Peppone for dinner. Had lunch at McDonald's - very crowded. Food tasted the same. Looked at fashion shops on Via Corsi. Tree-lined street (Via Veneto) past American Embassy.
12:10am Just returned from a wonderful dinner with Stefano, Viviana, Peppone, his wife, and his son (also Stefano). Stefano and Viviana got lost on the way and we spent about an hour and a half zooming around Rome, calling Peppone for directions, and asking other motorists. Sometimes he would ask a person in the car next to ours stopped in traffic and then the light would turn and we'd all race off. At the next light, the person would pull up alongside us and continue the directions! Finally we stopped at a monument, and Peppone drove out to guide us to the restaurant. It was a great meal and the conversation was good. Peppone did most of the ordering as we were unable to intepret the menu. His choices were excellent! They are all the best of people! We have arranged to meet Stefano and Viviana at the Vatican tomorrow at 11:00am. Peppone said he may drive to Roccalbegna on one, or both, of the weekends. Also, we have made tentative arrangements to meet with him on the Monday that we return to Rome.
9/12/97 6:25pm Had breakfast at hotel and then walked to subway station and rode train to the end of the line. From there we walked to the Vatican. Then left Vatican and walked to a castle a few blocks away (Castel Sant Angelo) and poked all around in it for the next hour. Then we went back to the Vatican where Stefano and Viviana were waiting for us. From there we toured all of the Vatican, including the museum, Sistine Chapel, The Pieta, and Saint Peters. The latter was unbelievably huge and even had tombs down below where all the popes were buried! The artwork throughout was incredible!! Then we left there and took the subway back while Stefano and Viviana rode their motorbike to the hotel (he had an accident in his car this morning and damaged the radiator). We all met at the hotel and then went walking around the shops near the area. Stefano and
I found a hardware store where I got a really heavy chain and lock for my motorcycle!! Lock - L60,000. Chain - L50,000. Most people return from Italy with fine clothes or bags; I return with a motorcycle lock! Now I have to carry it halfway around the world! We then returned to the hotel where Stefano and Viviana said goodbye. Stefano pushed Viviana's motorbike down the street until it finally started. Then he slid back in the seat, Viviana sat in the front, and they were last seen buzzing down the road in the midst of all the other motorbikes and cars!! Such nice people!
9/13/97 11:00pm A very busy day!! We checked out of the hotel at 9:00am and waited about 10 minutes for Stefano and Viviana who drove us to the airport. Shortly after we got the rental car, Moreno and Jacopo met us. Said goodbye to Stefano and Viviana and followed Moreno to his house
where Chiara and Isotta were waiting for us. Had a wonderful lunch (lasagna) and then Moreno and Jacopo took us to the town of Ceri, not too far from their house, while Chiara and Isotta prepared the car for the trip to Roccalbegna. Then we followed them to Cana where they had an errand to run. We continued on to Roccalbegna and waited in the square for them to arrive. While there, Violetta (Andrea's sister) came over to say hello. When Moreno and Chiara arrived we parked the car and they brought us to Mr. Simonelli's where we are staying. It is a very nice apartment on the 3rd floor of his house, and we are very pleased with it. Then we started towards Vezio and Primina's and ran across Eugenia. Shortly afterwards we found Primina. Then Andrea came up to say hi and, in a short bit, Vezio walked down and greeted us. It was so nice to see them all again! We had pizza at Vezio's. Eugenia and a friend came by and visited for a while. Then we all went down to the park where the festival was taking place, just like last year. They were even doing the Macarena again! It was getting late so we only stayed a short while and then returned to the apartment. Tomorrow we go to the crash site early!!
9/14/97 10:20am A rather restless night. The festival went on until 1 or 2am and was quite noisy. Then I kept hearing a door slam. Finally I got up and investigated and found it was one in the apartment being blown open/closed by the breeze. Got up at about 8:15 this morning - very anxious to get to the crash scene. However, there was a thunderstorm going on outside and we got soaked on the way to the car. I managed to drive all the way to the small road but gave up there as the rain was very heavy and the runoff severe. Returned to Roccalbegna and sat in the car until the rain subsided and then came to the apartment and got out of wet clothes. Wanted to do some laundry but we're unable to figure out how to work the washer/dryer and don't want to chance damaging it. Will have to receive instructions on its use. Rain seems to have finally stopped. Was so severe a couple of times that pea hail was present! Would be nice if it dried up by this afternoon!
5:10pm Had a very pleasant dinner at Vezio and Primina's with Moreno and Chiara and the Priest (Don Valentino). Then Moreno and
Chiara came to the apartment and showed us how to use the washing machine (no - it's not a dryer too). Now there is a load washing and we are getting ready to go to the crash site (again). There is a festival going on outside with a religious procession and I can hear the band very nearby. We need to first wait until the clothes are done and then put them on the line to dry.
11:00pm Just returned from dinner at Vezio and Primina's. On the way over we saw Andrea, Riccardo, and Eugenia. Andrea will take us hiking on Wednesday afternoon. Did laundry in machine - had to hang out to dry. Fireworks after dinner - very loud and very close to the ground! Many of them! Sent email to Mom and Alberto from Vezio's house on Moreno's laptop. Long conversations with Moreno and Chiara. Jacopo very quiet. Isotta has good English and reminds us of Pearle a lot. In afternoon we went to the crash site with the metal detector and retrieved some fragments. Andrea was going to invite us out after dinner but we're too tired to accept. Hope to buy food for the apartment tomorrow.
9/15/97 5:50pm Another very busy day! Did some more laundry today. Shopped for food. Walked to the top of the 'rock' in the morning. Met Mr. Simonelli at the grocery store. Ran across Don Valentino at the chapel on the hill and then Moreno and Isotta joined us. Went for lunch at Vezio and Primina's and were joined by Don Valentino. During the walk in town
we saw Mr. Raffaelli and others. After lunch Mr. Raffaelli and Andrea joined us and Andrea gave me a book about Roccalbegna that had my story as told by Alberto's father. We stayed for several hours - saw video of the 10/12/96 ceremony. Because Moreno and Chiara had to pack and leave, we left and returned to the apartment. Will probably drive to Siena in the morning and take the bus to Florence. On Wednesday at 2:00pm Andrea will meet us in the square for a walk up the river and over the rock. Also, Vezio will take us to Mt. Labbro whenever we ask.
8:30pm After cleaning up a bit we decided to try to find Mt. Labbro on our own. I used the GPS and what I remembered from last year and found it, but it required a climb to reach the top and Teddie was not up to it. I went alone and took some video. During the drive out, we saw Mr. Raffaelli in front of his home in Triana and stopped to say 'hi'. But, he speaks no English so it was rather brief and a little frustrating for everyone. We think he was perhaps inviting us to come into his house but we weren't sure, and we had to continue on to Mt. Labbro anyway. When we returned, a woman came up and said hello, and I thought she looked familiar but was unsure. Then she called into the bar for Allessio, and I remembered she was his mother. Allessio came out and we chatted for a little while before returning to our place. We filled out some postcards and will mail them in the morning on our way to Florence. The wind is blowing again tonight and we will try to get a good night's sleep as tomorrow will be a long day. The last two nights we have had problems with doors and windows slamming in the breeze. We hope we can secure everything tonight!!
9/16/97 7:00pm Did a little touring today. We decided that going to Florence would be more traveling than we wanted to do so, instead we drove to Siena. It was a pleasant drive, through hilly
country, and took about two hours. Then we spent several hours walking around (had pizza for lunch) before heading back. Got lost at first but back on course shortly. Then we got lost again at Grosseto but found our way finally. I have been carrying a small compass everywhere, and it has put me back on course more than once. Went straight to site and removed the wreath that had been left on 10/12/96. I kept the ribbon, we scattered the leaves around the site, and threw the Styrofoam base in a dumpster. Vezio and Moreno had moved the wreath when they cleaned up the site a week or two ago but I think they were hesitant to discard it. Now we're back at the apartment trying to decide what to do next. May go back over to Vezio's and video the tape from the 10/12/97 ceremony.
9:00pm Walked to Vezio's but saw his truck was gone. Could see Primina doing laundry in the basement but didn't want to disturb her. Tried to use the pay phone in the square to leave voice mail for Alberto but it was broken. Eugenia walked up and we chatted briefly. She said there was a phone in the bar but when I looked, it was not a pay phone so I didn't use it. Wandered around the town in the dark for about 40 minutes before returning to the apartment. Soon it will be time for bed. We both noticed how quiet and peaceful the village was at night (now that there is no festival) and how safe we felt walking the streets.
9/17/97 1:50pm Went metal detecting this morning and found many good pieces. On the way back we tried to use the pay phone in Santa Caterina but it too was out of order. Ran across Andrea and Eugenia on the way back and chatted (as best we could). Then bought some groceries and walked over to Vezio and Primina's. When we got there they called Moreno who told me Vezio had to wait for them to deliver furniture and couldn't go hiking with us. Also, Moreno said he made reservations for us in a motel about 20 minutes from the airport for Monday night. We asked Vezio if he would go to Monte Labbro with us tomorrow and he agreed, although we sensed that this did not make Primina very happy. We're aware of the many times we have taken Vezio from his home and hope that this has not caused any problems. Now we have eaten and will go down to the square at 2:30 and look for Andrea so we can go hiking.
6:20pm Returned from hiking with Andrea a short time ago. Eugenia, and Violetta came along. We walked up to the lookout, down to
the river, and up the river. Decided to stop at that and came out the same way rather than hiking over the top of the next hill like I did last year. We then drove to the café (La Grotta) where the man had a strut from the plane and drank a beer in the cool area behind the building. There is a cave behind the cafe where cool, damp air flows out. The cafe name must mean "The Grotto", or something similar. Then everyone went home. Andrea is having everyone over for dinner at 8:00pm so I have about an hour and a half to relax now. (late entry) During metal detecting we found several good pieces downstream from the site. Will have to concentrate there next time. Tomorrow there is talk of going to an area about 20 miles south to the town of Scansano where a man has some pieces of the plane he thought I might want. Also, we may go to Monte Labbro with Vezio in the afternoon. We will make our plans tonight at dinner.
10:45pm Just returned from Andrea's where we had dinner with Andrea, Riccardo, Francesco, Violetta, Massimo, Andrea's mother, and Andrea's brother (Mario). It was a huge meal and very tasty. The conversation was good (Riccardo translating) and most enjoyable! Andrea's cat visited everyone around the table. They gave me the handle from the Municipal building!! We had asked about it just today and they avoided the question. Seems it was taken off to give to me as a surprise! Also, they gave me a poster of Roccalbegna and a copy of my letter to the village along with a cover letter that Andrea put together to use when mailing it to others. Plus, they gave me pictures that were taken there during my visit last year. They had put together so many things to give us that Riccardo even joked about giving me the keys to his new motorbike! Since returning to Hawaii, I have had two of the items (a poster of Roccalbegna, and a pen-and-ink of Roccalbegna) framed and they look beautiful! They will make such a nice addition to the painting which Mr. Raeafelli gave me last year. All in all, it was a very pleasant evening. Tomorrow we are driving to Scansano, about 20 miles south, to look at the parts the man down there has. Looks like it will be us plus Andrea and Vezio. Not sure how we're going to communicate, but we'll try our best. No plans for the morning. It might be a good time to go back to the site with the detector.
9/18/97 9:20am It's another beautiful day outside!! This morning we will do a little food shopping, then go to the site for a while. Early this morning the church bells went off and then there was some shouting over a loudspeaker. Not sure what it all meant, but did notice that there are swallows(?) flying all about outside this morning so perhaps the commotion was their arrival announcement.
2:15pm Returned from metal detecting and ate lunch. Found several good pieces, including a few just leaning up against some trees! I got turned around when we were ready to return to the car but Teddie remembered the direction. She seems to be coming down with a cold now. Bad timing!! This morning I went to Vezio's and, using his phone, was finally able to leave voice mail for Alberto! Had to try a couple of times before I was able to figure out how to make the cordless phone produce tones. When I first got there Vezio led me down to the parking lot and kept trying to tell me something. When I told him we were going metal detecting he seemed relieved. As it turns out, the city was getting ready to repaint the lines on the edge of the road so we moved our car just in time. When we returned from metal detecting there were freshly painted lines where the car had been parked. Soon we leave for the drive to look at the aircraft parts.
4:00pm Scansano - witness interview with Attilio Lorenzini. Blacksmith at time of aircraft accident. He only salvaged parts he could work with. Was at factory and saw formation - one began turning and twisting - one person ejected - chute did not open - man crashed near airplane. Heard large
explosion - fuel. Heard bullets exploding. Saw two men that died in crash and one parachutist. Plane turning out of control. Parachutist too close to airplane at ejection - otherwise he might have survived. Bomb exploded - blew away most parts of the parachute - everything burned. No smoke prior to crashing - no jettisoning of cargo. Described plane as spiraling in. Was one km away. Engine noise was different - aircraft was last in formation - another returned - speculated that it returned to mark the location. US Army sent black people who stayed at site 2 or 3 days - slept at site. Thinks it was these people who removed the bodies - had body bags with them. Buried the plane with dirt. Villagers came for years afterwards to take pieces. He took a piece of the engine for the steel. Only saw the one engine - other may have been taken away. Lorenzini, Attilio Via Roma 13 Scansano
Stopped at Montebello on the way back. Farm, lodging, restaurant. Meat, wine, and bread.
(late entry) Was given two photos of the monument from the 10/12/96 ceremony by one of the villagers. This particular man has expressed an interest in my visit both this year and last, but unfortunately I never got his name. I remember his face well and will have to see if Vezio can put a name with it for me.
Also, the taker of the 12 Oct video said he would give me the original. His name - Simone Pellegrini.
9:55pm Back at apartment now. On the way back, we stopped at Montebello, a farm/lodge south of Santa Caterina, for snacks and wine. Chatted with the owners (?) and spent a great deal of time enjoying the atmosphere, although it got cold by the time we left. Mr. Lorenzini gave me two pieces of a parachute with 'AN' on each. Also, gave me fireplace andirons he made from airplane parts. Also, a pot lid he made. Teddie is still feeling poorly. Tomorrow Vezio and Andrea will meet me at 2:00pm to go to Monte Labbro.
9/19/97 Yet another beautiful, sunny day! Other than the one day it stormed and rained very hard, the weather in Roccalbegna has been perfect. The sun is high on the horizon now and I can hear the pigeons cooing on the roof outside. The swallows (?) from yesterday are nowhere to be seen.
1:45pm Just finished lunch at the apartment. Placed some flowers at the site this morning. Then searched the area with the detector and found several 50 caliber shells about 10 meters from the site, downstream, on the right side, 2 meters from the stream bed. Some of the bullets even had powder
in them and it spilled onto the ground when I lifted the casings. We were going to go to Mt. Labbro at 2:00pm but decided 3:00pm would leave room for a short nap for Teddie before we go. Told Eugenia and Vezio and they said that would be ok. Vezio said that Andrea would not be able to make it. Also, he indicated that Noemi Corridori and her son would like to see us but I couldn't understand if that would be tonight or Saturday morning. I'll have Eugenia translate the message this afternoon. Searching for fragments seemed especially enjoyable this morning. I suppose it's because the weather is perfect and I found many interesting pieces. I was a little concerned that my digging would set off a 50 cal round, but that's probably not very likely. I'm going to test some of the powder in a while to see if it will still burn. Hope there's no problem taking this stuff on the plane!!
11:30pm I tested the powder this afternoon and it still burns brightly after 53 years in the ground!! Vezio and Eugenia went with us to Monte Labbro and it was very pleasant. We stayed up there for a long time, exploring the tunnels and enjoying the view from the top. Then we returned to Vezio's where I was able to reach Alberto's voice mail and retrieve/leave messages. It's so nice of him to keep track of us this way. On the way back from Monte Labbro we stopped at Vezio's land and looked around for a long time. He made some changes from last year- most notably, he built a cement picnic table under a large shade tree high on the hill. It was very pleasant and we sat there for quite some time. We had about 20 minutes to freshen up before meeting Vezio at 7:00pm and driving to Andrea's cabin on the edge of Roccalbegna. It's a small stone building with a fireplace in one corner and 12V lights hanging from the ceiling. He has a long dining table on one side of the room and a smaller food-preparation table at the other side. We were eventually joined by Violetta, Massimo, Mario, Eugenia, and Andrea's mother (a Pandolfi - Vezio's cousin). Andrea worked very hard to prepare such a nice meal for everyone! And Vezio cooked pork over the fireplace. They talked and laughed for about three hours! The food was excellent and even though I could understand almost none of their conversation, I thoroughly enjoyed being with them and seeing them interact. It was a most pleasant evening, thanks especially to Andrea and Vezio! But by 11:00 Teddie was exhausted and had to get back and get some rest. The worst of the cold seems to be behind her now but we will see how it goes tomorrow. I was told that Noemi Corridori would like to see me tomorrow. We may go there with Vezio tomorrow at 2:00pm. Moreno and his family are expected
tomorrow at 6:00pm. I think they are all planning on being at the picnic at Vezio's on Sunday. Hopefully Giovanni and his wife will be there too. No one has heard from him yet but I understand he has Vezio's phone number and will probably call him if he can attend. Time now for bed for me!
9/20/97 9:15am It's another perfect weather day out there!! The weather on this trip has been so much better than last time. Although it was a bit too hot for comfort in Rome, I have no complaints about the Roccalbegna weather other than the first day when the rains came so hard. I plan to take the metal detector down to the site this morning and look around. I keep hoping to find a personal item such as a ring, watch, dog-tag, or the like, but realize the chance of that is very slim, if not impossible. Nevertheless, I enjoy being in the area and spending time looking through the woods. And, there is the feeling that this is as close as I can be to my father as this site is surely his final
resting place. After examining the fragments and realizing the horrible force of the explosion, I can understand that there is probably little, if anything, actually buried in the grave at Kentucky. Teddie is still under the weather. Last night was difficult on her and this morning her head is stopped up worse than ever. Still no fever though, and that's good.
5:00pm The metal detecting went well, although I didn't find as much interesting stuff as yesterday. After I returned we ate lunch at the apartment and then went to Vezio's. I called Alberto's voice mail and exchanged messages. Then Vezio went with us to the house of Noemi Corridori where we had a nice visit with her and her son. Because of the language barrier, they called her grand-niece, Allesandra, over to translate for us. Although it had been a long time since she spoke English, she did very well and we had a nice conversation. We had promised to get Vezio back by 4:00 but it was almost 5:00 when we dropped him off. He said earlier that he had a lot of work to do to get ready for tomorrow's picnic. I have noticed some clouds in the sky this afternoon. Not many at all, but hopefully not a sign of bad weather to come.
9:45pm Had a nice dinner at the café across the river, although it got cold once the sun set. Then Teddie came
back to the apartment and I went to Vezio's to greet Moreno and his family. We chatted for a while and then sent email to Alberto and Mom. I went to check my email but it said I had 78 messages so I stopped the process. Although they were emphatic that I was not intruding, I felt that I had bothered the family with enough for one day and returned to the apartment. Besides, tomorrow will be a very long day with the picnic and all the people there. Moreno said that both Peppone and Giovanni had called and said they would be here at 11:00am tomorrow. I plan to go to the Piazza a little before 11:00 to wait for them, although I may not recognize Giovanni - I've only seen a picture (not very recent one) of him. I hope Teddie will be back on her feet and ready for a long day of visiting tomorrow!!
9/21/97 8:45am It looks like my fears of the weather for the picnic turning bad were unfounded. It's yet another picture-perfect morning
in Roccalbegna! In just two hours Giovanni and Peppone will arrive and then we will head for Vezio's land for the picnic. Unfortunately, Teddie had a bad night with her cold and I don't know how well she will be feeling today. What an awful time to be ill! Moreno brought me some brochures from the Motel Corsi in Torrimpietra where we will be staying tomorrow night. It shows they have a restaurant so I am hoping that Peppone and Stefano, and their wife/girlfriends can join us for dinner on our last night in Italy. Today and tomorrow will be two busy days for us, what with the picnic, driving to Rome, packing, and flying! It seems that the final opportunity to explore the crash site has passed, but that's ok - I have collected many interesting pieces, and know that many, many more remain for my next visit. We will, at least, visit the site on our way out of Roccalbegna tomorrow.
10:05am Just returned from Vezio's. We heard a small plane and ran to the window to see a light plane circling the village and feel sure it was Peppone! I thought he might land close by and need a ride, but Moreno said he would probably have to go to Grosetto to land and may have his wife driving there to pick him up. So - I asked Moreno to let me know if Peppone called and needed a ride and then I returned to the apartment. Preparations at the Pandolfi's are in full-swing for today's picnic! I wish there was some way I could be of help but it seems I'm only in the way when I go over there during the preparations and my presence distracts them from what they're doing.
10:50am I'm now in front of the Farmacia, waiting for Peppone and Giovanni to arrive. It's exciting to know that most of the people involved in my adventure will all be here together. If only Mr. Poggesi was still here - that's the one sad part of this gathering. I have thought that I would like to express my appreciation to everyone while we are all together. Perhaps if the opportunity presents itself, I will make as best an attempt I can to say a few words. My public speaking skills are lacking, but it seems appropriate that I at least attempt to convey my thoughts at this time. We'll see. Actually there is no way I could ever properly thank them for all they have done for me! Their help and generosity have truly been overwhelming. This, combined with Italy's rich history, art, and beautiful countryside, makes for a wonderful country that I have become very fond of. Now it's certainly not a question of if I will return, but rather, when. During our visit with Noemi yesterday she asked if Americans sometimes considered Italians inferior. My only answer could be that those people who do are ignorant and have not come to understand the people such as I feel I have.
11:10am Still no Peppone or Giovanni. I will walk to the other square now to make sure I haven't somehow missed them.
11:25am Still no sign of them. Now the church bells are ringing (again) but I don't know the significance. Several people are milling about the other square. However, it looks like just morning (Sunday) activity and not preparation for church or any other particular event.
11:35am Still no sign. I think I'll walk over to Vezio's and see if they've heard anything.
6:20pm just returned from the picnic. It was a lovely afternoon - more perfect weather, good food
(wild boar), and great company. Giovanni finally showed and he and his wife and cousin were at the apartment with Chiara when I got back. After a while Peppone showed up and then we all went to Vezio's land for the picnic. The group consisted of us, Vezio, Primina, Moreno, Chiara, Jacopo, Valentino, Mrs. Pandolfi, Giovanni, Barbara (his wife), Francesco (his cousin), Peppone, and Maria. We spent many hours discussing many things. Finally Valentino had to leave. A while later it became time for Giovanni and his group to depart. Peppone had to leave then too as he left his plane outside of Grosseto and needed to be back in Rome before dark. We hoped he would be able to do a fly-by, and waited for a long time until we were sure he must have gone down the coast instead. We arranged to see Moreno and Chiara tomorrow at the motel and told Vezio and Primina that we would come by to say goodbye at about 11:00am tomorrow. It will be very difficult to leave them and this lovely place. Usually I am ready
for my vacation to come to an end and return home but not this time. Tomorrow we will finish packing, say goodbye to Vezio and Primina, visit the site one last time, and head for the motel. We plan to have dinner with Moreno, Peppone, their families, and Stefano and Viviana. The next morning we will head for the airport early and be on our way.
9/22/97 8:30am Our last morning in Roccalbegna! Although it's going to be another nice day outside, I can see subtle changes beginning to take place in the weather. Small clouds, which began forming yesterday, are now present as a large broken upper level layer. Perhaps winter is finally thinking of starting in. This morning we will finish packing and then go and say our good-bye's to Vezio and Primina; something I very much hate to do.
1:50pm Just checked into Motel Corsi in Torrimpietra. This is the one that Moreno reserved for us and it is fine! I tried to call Moreno but he was gone so I spoke with Isotta and asked her to have him call me when he returned. The drive down went well and we didn't get lost at all. After a brief stop at the monument, we were on our way and only stopped once for a light lunch at a roadside bar. When Moreno calls I'll find out if Peppone is available. Otherwise, we will all probably meet for dinner this evening at 8:00.
9/23/97 12:15pm We're now about 15 minutes out of Rome, over the Mediterranean. Last night we went to Fregene on the coast and walked the beach briefly. Very fine sand - water was warm but looked dirty. Most beaches are private and inaccessible. Then we returned to the hotel for a short spell before heading out for Moreno's house. All we had to find it with was the GPS and it worked perfectly. Hung around and chatted with the family for a long while before we all headed for Ceri, a small village on top of a pinnacle of rock. This was the area we visited just prior to following Moreno to Roccalbegna two weeks ago. We met Peppone there, who also brought his wife, Maria Elena, Stefano, and Viviana. We all had a most pleasant dinner and conversation. The only problem (minor) was that the table was long, rather than round, so the people at opposite ends didn't get to chat much. At the end of the dinner Moreno and Peppone split the bill, contrary to the "conditions" I set at our last meeting; I was to pay! These Italians are sneaky (and generous)!! Then we all drove off, Peppone in the lead, me following, and Moreno at the end. Soon we reached the intersection where Moreno had to turn off. I waved out my window and could hear Chiara shouting, "Ciao, Michael! Ciao!". We continued on until Peppone passed our hotel. He stopped briefly and I pulled alongside for a final goodbye and then they pulled back onto the highway with Stefano and Viviana waving from the back seat. Saying goodbye to all of them at the restaurant was very difficult! As I told them, I feel like they are all "family" and that I was going very far away. It was very sad for me. This morning we were up at about 7:30, ate breakfast (very good selection of food), packed, and left. After gassing up the car in front of the hotel, we took the easy 20 minute drive to the airport where we returned the car and then checked in with British Airways. Then we passed through "Passport Control" where our passports were given nothing more than a casual glance before we were waved through. The wait for the flight was longer than it should have been because of a late arrival of the plane. But now here we are - on a 1 hour, 45 minute flight to London where we should only have to wait an hour or so for the flight to Newark. Looks like "Italy '97" has come to an end! Left final voice mail for Alberto this morning. Will send email from Mom's tonight.
Some impressions about Italy and its people --
Countryside is absolutely beautiful!!
Italians can be very warm and generous!
Small villages are full of charm and history.
Young people seem to be moving to the larger cities (jobs, excitement, etc)
Traffic in Rome has to be experienced to be believed!!
Many motorbikes - all driving very fast!
The timid never get across the street in Rome.
Food is good - many styles - lots of it.
Language barrier is great, but not insurmountable.
Family ties are very strong.
Property often stays in the family for many generations.
September weather can be severe or perfect. Rome was hot, though.
Country is very rich in art and history.
There are so many stunningly beautiful women in Italy!
Homes are built solid - especially the older ones (rock/mortar walls, heavy window frames, tile roofs).
Cars are usually tiny (and fuel is expensive - L1895/lit. Why??)
The petty thievery we worried about in Rome never happened (lucky?).
I miss the country already!