The following is a transcription from a small notebook I carried during our vacation and wrote in from time to time. As such, the writing style is often clipped, and contains many incomplete sentences. But it was the easiest way for me to jot down the events which took place so I could later share them on this web page. Enjoy!!
September 6, 2004
First entry! We are at EWR now and things are getting off to a difficult start. Because our tickets did not have seat assignments, and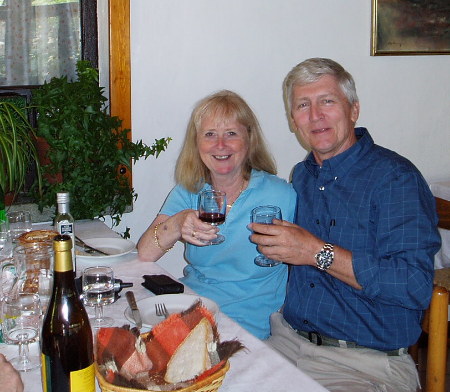 This became a common sight during our visit.
the plane is overbooked, we are on standby and may not be able to fly tonight! Teddie is handling it well, though, and there is little we can do but wait to see if they can find seats for us. I hope this is not an indication of things to come!
September 7, 2004
They were able to find seats for us, so all is well. Right now we are over France and about 1 hour from Rome. We are very tired but anxious to be on the ground and on our way to Roccalbegna. All air travel after this will be westbound and easier (although longer).
September 8, 2004
8:10am
Yesterday was a long, but rewarding, day. We arrived at FCO about 1/2 hour late - passed through immigration (after attendant left for 10 minutes and finally returned), got our bags, and then met Peppone who was waiting for us outside the door! It was so good to see him again!! We all then went to Hertz where we stood in line for an hour to get our rental. I requested a diesel so they gave me a new Citroen - a strange little mini-van vehicle with a shifter that comes out of the dash. Peppone led us out of the airport and onto the main highway towards Roccalbegna and then we stopped at a station for coffee, soda, and food. He then had to turn back and return to Rome but we hope to see him in Roccalbegna next week. Also, Alberto called us on our cell phone to make sure we had safely touched down and were doing well. We drove on to Roccalbegna without any problems although it seemed to take
The view of the village from the Fort. I never tire of walking to the
top of the rock and looking down at the beauty of Roccalbegna.
a long time. When we arrived, Andrea was outside the apartment on the phone. We turned around in the piazza where Eugenia was sitting on the bench outside her store. We waved and hollered and she politely smiled and gave a little wave. Then she realized it was us and jumped up and smiled very wide. We drove back to the apartment and parked and met Giulia who walked out to greet us. After settling in and catching a nap, we went to Giulia's for dinner with her, Andrea, and Eugenia. It feels good to be back with everyone again!! After dinner we returned to the apartment where we slept fitfully and now I am up and ready to go, but Teddie is snoring away in bed! Perhaps I will walk over to Vezio's and visit with them for a few minutes. This afternoon we will have lunch at Andrea's. We haven't seen Zoe yet, but hope she appears soon.
9:50am
Instead of going to Vezio's, I drove to the crash site and sat for a while. The monument is doing fine and even the bench we placed there in '02 looks pretty good. The gravel road was rough as usual but they had poured cement where the streams cross the road and that was a big help. Teddie is still in bed, but I hope she will be getting up soon. Weather outside this morning is perfect - dry, clear, cool, blue skies!
12:05pm
Teddie finally got up and we went to Simonelli's for cereal and milk (saw Franca and Pierpaolo). After breakfast we walked over and saw Primina coming form her mother's. She said her mother
The Maremma piazza, with the church and City Hall (in red).
was in very bad shape. Then we drove to Vezio's land and found him chopping firewood. Visited with him for a while - he said his mother is in a home/hospital in Semproniano and her mind is failing. Left Vezio to chop wood and went to the Rancho - it looks very good and so does the gate! Someone had run the weed-eater down there and the upper section was quite clear. Stefania called earlier and it was good to hear her Australian/Italian accent again. We plan to drive up to her place on the 15th or 16th. Teddie's Italian language skills are returning and she understands everyone much better than I. Now we need to find Zoe so we will have a good translator. Moreno and his family are in San Francisco and, sadly, we will not see them this visit. Now we have a 1-hour rest before lunch at Andrea's.
3:50pm
Returned from lunch with Andrea, Giulia, Mario, Eugenia. A very nice time, but Teddie is extremely worn out and had to eventually leave (she is now laying down downstairs). We are all planning on having a picnic at the Rancho tomorrow at 6 pm. Zoe called while we were at Andrea's - she will come by tomorrow at 10:30am. It was fun having lunch with everyone. Eugenia was the main translator - we have not been able to find our dictionary.
Zoe rides the Ape (ah-pay) up the hill.
Giulia talks to us a lot but we cannot understand what she is saying! She is such a nice, lively lady! Yesterday she told us she is 80 and is in good health except her knee is bothering her a lot.
5:30pm
Still on the go! Teddie was (is!) sleeping so I walked to the fort and took some pictures. When I came down I moved the car to the other side of town - parking in Roccalbegna is very difficult. On the way back I ran across Massimo and then Mr. Raffaello. Tried to buy a dictionary at the news store but they had none. Will probably take it easy for the rest of the day. Teddie is sleeping soundly and snoring loudly!!
9:30pm
Teddie finally got up and we walked around the village a bit. Found Andrea washing his new car. Now getting ready for bed. Teddie feels better, and that's good. Hope she gets good sleep tonight.
September 9, 2004
9:30am
Finally up!! Slept good until around 3am, then fitfully until loudspeakers woke me around 8:30am.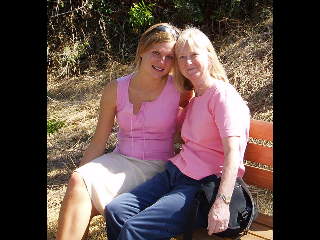 Zoe and Teddie pose on the bench.
Not sure what they were about, but suspect the traveling market may be in town. Zoe will be here in an hour and we are anxious to see her again. Nothing planned for today until 6pm, so we'll see if there is something Zoe would like to do. The weather today is perfect again!
8:30pm
The end of a wonderful day! Zoe came by right on time - it was great to see her again! She, Teddie, and I drove to an outdoor market near Castel del Piano and stopped at a roadside cafe for lunch on the way (we all had spinach ravioli with meat sauce). Then we wandered around the market for quite a while before heading back to Roccalbegna. Once back at the apartment, everyone took a nap until 5:30pm. Then we packed a few items and went to the Rancho where we were joined by Andrea, Mario, Vezio, and Eugenia. After a while Luciano came down and we were later joined by Zoe's sister, Linda, and her friend. I remember last year's gathering at the property very fondly, and this one was every bit as enjoyable!! Lots of meat, wine, bread, tomatoes, and grappa. The bench was in full-time use, as were several pieces of makeshift furniture they brought with them. Now Teddie and I are back at the apartment and Zoe has gone to a friend's. She will be back at 10am and we plan to drive to Montalcino and look around.
Andrea, Mario, Luciano, Zoe, Teddie, Eugenia, and Vezio enjoy a picnic
on our piece of property. Andrea and Mario have kept most of the
property cleared for us and it looked very nice.
September 10, 2004
9:00am
Now up and dressed. Peering out the window, it looks like another perfect weather day. Zoe just called to say she was not feeling well and would be unable to join us. I think she came out yesterday although she was not feeling 100% and it caught up with her. We hope she is well for the meeting at the school tomorrow. We will miss her today. Teddie has laundry in the washer now - we remember the little machine from our previous visits - it chugs along for a while, goes silent, makes little whining noises, goes silent, etc.
6:00pm
We loaded up the car (Citroen Picasso) and headed out for Montalcino this morning. It was a great drive and we found ourselves near a geocache, but could not locate it (I did not bring the hints!). Eventually we pulled into Montalcino and parked in a large dusty lot at the edge of town. Ate lunch at the same restaurant we did last year (panini al salame) and then did some shopping. Bought vino, grappa, Vin Santo, a
Teddie awaits her panino in Montelcino.
corkscrew, pocket knife, doll for Isabella, toy for Max, 2 cutting boards. We found our way back to the car and made our way back to Roccalbegna. Teddie is pretty good about reading the map, but I wish she was more interested in the gps. It can make navigating quite easy, but is impossible for me to read while driving the narrow roads. Now we are "home" and Teddie is sound asleep! We go to Vezio's in one hour and Zoe sent me a message on the phone saying she feels better and will join us. Although we are not doing that much, this trip seems especially exhausting. Perhaps we are just getting over the jetlag. Or perhaps we are simply older now.
September 11, 2004
9:30am
Last night was very enjoyable! We went to Vezio's around 7pm and Zoe was with us - she felt better later in the day and decided to come out. We all gathered in Vezio's new apartment behind his house. It has been under
Linda and Zoe took us hiking high above Roccalbegna.
construction for several years and we have seen it in various stages of development so it was nice to see it all completed. It is quite nice and has many of Vezio's touches - fine woodwork on doors, windows, and furniture. Vezio found a small black scorpion under a mat in front of the fireplace and that surprised everyone. Primina's mother is very ill, so Primina only dropped by briefly. In attendance were Vezio, Andrea, Mario, Eugenia, Luciano, Zoe, and Luigi. We stayed until around 10:30pm when Zoe said she should be getting home. She offered to walk home (in the pitch black moonless night) be we would not hear of it and drove her. Upon returning Teddie thought she had left her purse at Vezio's, despite my remembering her leaving it at Andrea's apartment, so we returned to Vezio's where the gang was still partying. We stayed until about 12:30am and then came back home. This morning Teddie is doing laundry and we have just finished breakfast (Special K Frutti Rossi) and will get ready to go to the school in an hour or so. Both of us have been sleeping rather fitfully since arriving, but the sleep pattern is slowly improving. We are only in Italy for another week,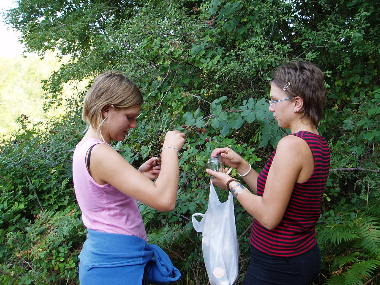 Zoe and Linda pick blackberries to take home.
so it doesn't matter - we can catch up on our rest when we return to Hawaii. Also, we need to contact Stefania and let her know of our arrival date. It will be a long drive up to their place, but it will be nice to see them again and visit a new area of Italy. As always, I am a bit apprehensive about the school visit, but I'm sure it will be OK. Not knowing exactly what to expect makes it difficult to prepare for, so I will just have to wing it, as usual. I know the children will have questions for me that I will just have to answer honestly. After the school, we are all going up to Zoe's place for a while. I met her father the other day, but have not seen her mother since arriving in Roccalbegna. Not even sure if we ran across her on our '02 visit. We're looking forward to seeing her again and visiting Zoe's home.
7:00pm
Back in the apartment after a fabulous day! We went to the school at 11am and were greeted by the teacher and students. Had a question and answer session and then the teacher (Daniela) showed us an album
We all enjoy a great dinner at Vezio's
new apartment behind his house.
and explained some history to us and the children. We passed out the key chains and they were a hit. Then we saw a movie the kids had entered in a Film Festival in Florence last year (and won a prize). Andrea gave us a copy of the movie, and then the students presented us with a fine handmade linen that had been created by people in the village. A wonderful reminder of our visit with the children and their teacher! After that we drove to Zoe's house where we joined them for a great dinner. It was very good to see Beatrice again!! After dinner, Linda and Zoe took Teddie and me on a short hike along the river and past a couple of new German homes. We stopped and chatted with one fellow. Once back at the house we said our goodbyes and drove down the hill and out to the crash site for a while. Then it was back to Roccalbegna where we had to park on the other side of town and up by the Carabinieri office because of all the people in town for the first night of the festival. We may venture out for a little while later on if I can talk Teddie into it. The dinner experience was so nice today that Teddie and I agreed we would not trade it for a week in Florence. At the meal were Zoe, Linda, their parents and brother, their little sister, Giulia, Andrea, Daniela, her friend, and Peppino (friend of Zoe's father). Lots of animals at the place - geese, dogs, cows, kittens. Zoe gave us a tour of the house. Big table outside under maple tree, solar plate warmer, donkeys in the barn. Was good chatting with Beatrice about her fine daughter, Zoe.
7:25pm
Just chatted with Stefano Gallo (saw on my phone that he had tried to call) and told him I'm sorry we will miss him this year. It would have been so nice to see him again.
12:00 am
Tonight was the first of 3 festival nights - the dance night. We went up for a while and must have seen everyone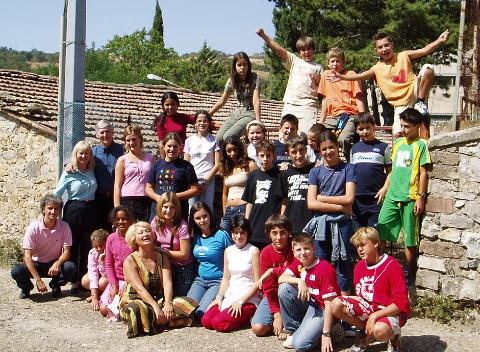 We had a fun visit with the kids at the School of Roccalbegna. They are
a great group and we feel fortunate to get to visit with them.
we ever met here before! Andrea talked Teddie into one dance, although she did not know the steps and felt foolish at it. After a while Zoe and Linda showed up and we ran across Vito - it was good chatting with him for a long time. Teddie got tired, though, so we came back to the apartment around 10:30pm and made a late-night snack. Tomorrow is the fireworks and I'm looking forward to that!! It has been another great day in this special village!
September 12, 2004
11:50am
Finally got up around 9:30am – could hear party going on last night until all hours! We are now sitting on the bench at the Rancho and it is very peaceful here. We have been going over the map, planning the route to Stefania's on Thursday – a long ride! In a while we will go to Andrea's for lunch and this evening will be Festival Part II!
Ezelino Corridori and wife, Carmen. He saw the airplane fall out of the sky and noticed they were throwing stuff from the plane to try and lighten it. Two fuel tanks were with the stuff jettisoned – one retained a lot of fuel and
Zoe enjoys some time with her little sister and brother.
was used by the farmers, the other was practically empty (burst upon impact?). We spoke at length with them, with Zoe translating.
Catalina Toure – from Nuremburg – lives in Santa Caterina. Chatted with her for quite a while. She has been in the area for a few years and indicated a relative in Germany might let us use their apartment on our extended European trip in '06. Very pleasant to chat with.
11:15pm
After the Rancho, we came back for a while and then Zoe came by to join us for dinner at Andrea's. It was all the Zamperinis plus Eugenia, Zoe, Massimo, and us – another great time! Then we came back to the apartment to rest for a while and around 5pm went back out to see the band which was marching down the main street. Eventually they all went down by the Maremma gate and entered an exhibit room there where they did a tribute to Luciano (he leads the band). Everyone then returned to the north piazza where the band played several numbers. At one point Mr. Raffaello introduced Teddie and I and the band played several American marches on our behalf. The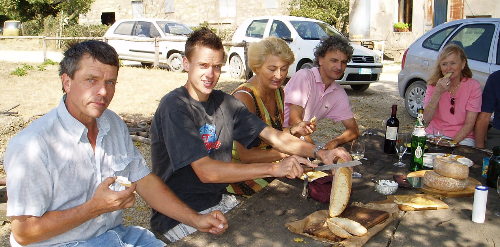 Lunch at Zoe's with her parents and friends.
mayor had us stand briefly and the crowd clapped. Later they lit 2 of the big nylon balloons which went way up in the air and eventually disappeared over the hill in the direction of Zoe's house. Then wine, panini, and cake was served to all and we stood in the square and visited with many people – some we know and some we just met. Around 9:30 we went to Riccardo's and visited with he and Roberta for about 45 minutes until they started the fireworks with a blast that rattled all the windows! As usual, the display was fantastic – loud, bright, and directly overhead from where we were standing (above Riccardo's). There was a problem with Riccardo and he kept calling for Roberta. Teddie knocked on the door and got her but we never did figure out just what was going on (found out later that his cat got scared when the fireworks began and ran to the top of the hillside). We returned to the piazza and said goodnight to Zoe and Linda and returned to the apartment. Now we are in for the night and will have to decide what to do tomorrow during the day. Today was another fantastic day, thanks to our dear and wonderful Italian friends. During the fireworks we could look up and see a
Zoe and Giulia with the Mayor, Alessandro, and Luciano.
sky full of debris raining down on us whenever a firework would light up. It was a strange sight. Then the stuff would hit the ground, some of it as large as a twisted cereal box. I suspect the entire village is covered with the stuff.
September 13, 2004
4:10pm
Today has been pretty laid back. We got up around 9:15 and Teddie hung some clothes out to dry. Then she did a bit of food shopping and we headed out for Pienza. We were there on a previous visit and remembered all the shops. Bought several souvenirs/gifts and ate a sandwich in the piazza before returning to Roccalbegna. At the edge of Roccalbegna we stopped at the cheese factory and bought a small block of pecorino to bring home. Now we will probably settle in for a while and will be going to La Grotta this evening.
7:45pm
Teddie took a nap and I climbed up the rock just as the sun was getting low on the horizon. Now I'm back and cooling off and Teddie just got back from bringing in the laundry. In a half hour or so we go to La Grotta for
Benedetta and Serina pause to pose for a picture.
pizza with the Zamperinis. I was out front a few minutes ago and met Anna and Violetta walking in with Francesco. This is the first time we have seen him this visit.
(Note: I have been wishing Teddie would develop an interest in the gps, but it does not look like that will happen. She prefers to use the paper map and the roads here are far too winding for me to take my eyes off of them to study them to study the gps. Oh well – technology is not for everyone, I guess.)
(Note: The little diesel rental car seems to be doing well. It chugs up the hills at pretty low rpm and appears to get good mileage. I filled it this afternoon for Euro 25 although that only brought it up to 7/8 full. I am not able to sail around the corners like I could with the little sedans, but that's probably for the best. The drivers in Italy seem much better behaved overall, but perhaps it's just because I'm used to them now.
10:05pm
Just returned from pizza at La Grotta – we thought it would be the entire Zamperini clan, but it was only
Andrea. The four of us had a very nice pizza dinner with Zoe translating between Andrea and us. It was very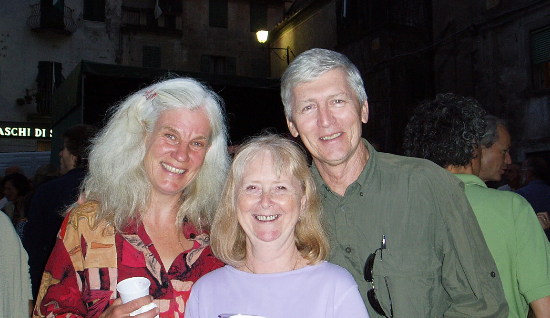 Beatrice, Teddie, and Michael enjoy the festival.
relaxing and good conversation. We had to send Zoe out after the check as Andrea was away from the table trying to pay for it. He did manage to buy a round of grappa, but Zoe rescued the check for me for the rest of the stuff. When we left, Zoe hopped in her family Alfa and headed for home. Teddie, Andrea, and I continued on to the apartment and Teddie and I are now about to call it a day. All too soon (2 days) our visit to Roccalbegna will be over and we will head northward. On the way back to the apartment we passed Roberta, then waved at Serena, and chatted briefly with Mr. Raffaello. It's hard to walk the block across town without running into people we know. Also, it's difficult to cross the piazza without the eyes of everyone on the benches following us. I do not object, nor do I feel especially conspicuous anymore, as I realize their stares reflect curiosity, not hostility. How nice it would be to be fluent in Italian and to be able to sit and chat with them. It will never happen, though.
September 14, 2004
9:35am
Lots of commotion outside this morning. It sounded like a long train going down the alley, but when I looked, it turned out to be a very small street-sweeper (it probably had Vito driving). They must still be cleaning up from the fireworks. The weather is high overcast this morning, but it will probably be dry all day. From the look of the
Teddie likes shopping at Pienza.
hills, they could use some rain – everything is brown!! So different from my first visit when it drizzled on and off the entire time and everyone was picking mushrooms in the forest. Today we are going to Montebello at 1:00pm, Zoe's at 7:00pm, and to a movie (?) in town around 9:00pm. Only one more day here after today – the time is passing too quickly!

11:30am
Walked to the newspaper store and bought paper/envelope to write a thank-you note to Andrea. Then we stopped at Simonelli's and got some soda and wine. Then it was over to the Post Office to buy stamps and mail postcards. Now back at the apartment relaxing. Noticed scratches on kitchen table and hope we didn't somehow cause them. (found out later that we did NOT). Teddie said she doesn't recall us doing them, therefore we didn't. Woman logic! I'll have Zoe ask Andrea, just to be sure. Teddie hasn't been keeping a journal this year. She is not sure why she has not been in the mood to do so. I saw Vito in the street-sweeper a while ago and expressed regret that we will not be able to accept his dinner invitation. I hate to have to turn anyone down as it makes us seem to be choosy, but he seemed to understand that our schedule is full. Saw Alessio in the piazza the other day – he is still a student. He said he saw our web page with his name mentioned.
The view from a hill north of Roccalbegna.
10:40pm
At around 1:00pm we met Martina and her boyfriend and all (them, us, Andrea, Zoe) went to Montebello and enjoyed a very nice lunch (spinach ravioli) and chatted. Then we went outside and Martina asked several questions (she is doing some kind of study). Then we went to the crash site for a little bit and finally continued home to Roccalbegna. About an hour after getting back it was time for the procession so we went to the south piazza where everyone was gathering. The band assembled and eventually the canopy was brought out and the march began. We joined in and walked with Violetta and Giulia. The procession went up the road to the Post Office, made a U-turn, back down the road, left into the alley across from Andrea's apartment, to the end, right to the main street, right through town, and then up and around back alleys until reaching the chapel above the church. Most people went inside for the service but several stayed outside.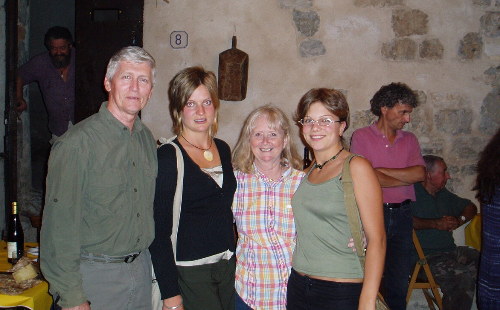 Michael, Zoe, Teddie, Linda, Andrea, and Vezio at Andrea's Cantina.
Teddie and I joined Andrea, Violetta, and Anna under the grapevines. At about 6:45pm we left and got the car and headed for Zoe's house. We spent the next 3+ hours enjoying dinner and Zoe's family. We talked of food, Zoe's travels, their early days, and other things. They brought out a couple of old photo albums and we enjoyed hearing about their early adventures. They are a wonderful family and it was so nice being able to spend some time with them. When we got ready to go, we discovered that we were in the clouds and visibility was very, very poor. It was a long, slow drive down the dirt road but we broke out of the clouds just before Santa Caterina and it was mostly clear from there. There was a parking space near Andrea's and Teddie thought it was good enough, but I felt the rear of the car was sticking out in the street too much so I moved it to the other side of town. While walking back I stopped in the piazza to watch the movie with everyone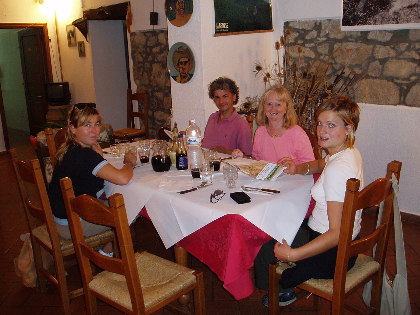 Martina, Andrea, Teddie, and Zoe at Montebello.
else – about 35 people sitting in the semi-drizzle under umbrellas. Linda came up and said she just returned – she had been helping with a child delivery in Grosseto until quite late. Now I'm back in the apartment and will get ready for bed. Tomorrow is our last full day in Roccalbegna!!
September 15, 2004
7:40am
Just finished breakfast (more Frutti Rossi) and Teddie is going to hang clothes on the line. She has been loading the little washer before she goes to bed and then she turns it on early in the morning and goes back to sleep. We have no plans for the day other than packing and preparing the cantina. Neither should take much time, so perhaps we'll go to the Rancho for one last time. As always, it will be difficult to leave the village in the morning – we have enjoyed our stay so much! But, although I am not looking forward to the long drive to Stefania's, we are looking forward to seeing them and their new place. Weather this morning is cloudy.
Teddie finds a new friend at Montebello.
12:25pm
We have completed most of our packing. Also, we went to Simonelli's and bought a few items for tonight – tomatoes, bread, cheese, gelato. It has been very lightly raining on and off all morning so we haven't been getting out. After lunch I want to make one more trip to the property – rain or shine! We seem to be in the pre-travel funk – packed to go, but it is not yet time.
September 16, 2004
7:20am
Dinner at Andrea's cantina last night was fantastic! In attendance were Andrea, Mario, Violetta, Francesco, Zoe, Linda, their friend, Mr. Raffaello, Luciano, Massimo, Eugenia, Vezio, Beppe, Roberto. Teddie had prepared a tomato salad and we brought wine and gelato. Our friends brought tons of food, wine, cheese, and other goodies. Everyone seemed to have a very good time – certainly Teddie and I did!! We took lots of pictures, as did Massimo. And when I mentioned that I had looked at pocket knives, Massimo went home and brought me one, in the style that is so popular in Tuscany! Also, the group gave Teddie two bottles of local wine and an entire liter of olive oil. What a fantastic bunch of friends! Saying goodbye at the end of the night was hard and everyone wanted to confirm that we would be returning in 2 years. Now we are preparing to eat breakfast, load the car, and head out. As always, it is very hard to leave this place!! So much can change in 2 years and time is gradually taking its toll – Primina's mother is very ill, and Vezio's mother is in a care home. Hopefully there will be no other casualties before we return.
7:15pm
Finally made it to Stefania's after 7 hours of driving. Got lost 2 or 3 times – last time so bad we just gave up on the map and used the gps to get us on course. Even at that, Stefania had to meet us in Bricherasio and guide us in the last few miles. They live way up in the hills and the place would be very difficult for us to find. The drive went OK although it was loooong! Lots of tunnels, trucks, confusing roads. The main highway was well maintained and quite efficient (Toll – Euro 24.20. They don't like making change at the toll booth). Stefania and Stefano's house is really something, and is still under construction. So far we have only seen parts of it. Very big – lots of stone, modern fixtures, etc. It will be quite an accomplishment when it is all done!
Friday with Stefania and Stefano:
Luserna San Giovanni – passed through
Shopping at Torre Pellice
Lunch at Bobbio Pellice
Lunch at I CACCIATORI
· Entrees:
o Salame cotto e crudo (cooked and raw salame)
o Frittata alle erbe con aceto (herb omelette with vinegar)
o Bresaola (cured uncooked beef, sliced very thin)
o Vitello tonnato (veal, cooked tuna-style)
o Aspic di tonno (savory jelly, made with tuna)
o Lingua al verde (tongue with greens)
· Main course
o Agnolotti alla piemontese con sugo d'arrosto (ravioli Piedmont-style with roast beef juice)
· Dessert:
o Panna cotta (cooked cream)
o Bonnet
· Wine:
o Bonarda dell'oltrepò pavese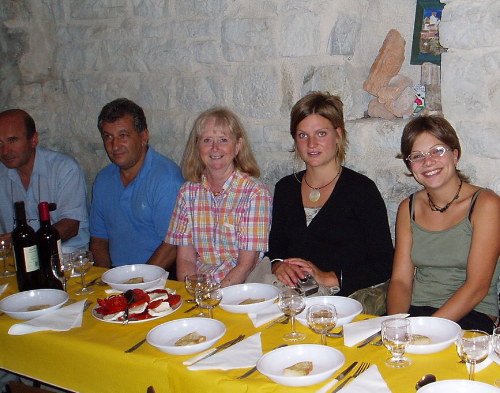 Luciano, Mario, Teddie, Zoe, and Linda at Andrea's Cantina.
September 17, 2004
7:20pm
Began the day with breakfast on the terrace with Stefania (Stefano was at work). Then we walked to Liana's house to leave Numa (the dog) but when we started walking back, he bypassed the gate and caught up with us so we loaded him into the back of Stefania's car and headed out. We started by shopping at Torre Pellice where I noticed some pocket knives I liked. Then we went to Stefania's office at Bricherasio where Teddie checked her email. I had planned to check mine also, but an ad kept popping up and it took so much time that I decided to just wait until New Jersey to check mine. We then met Stefano and all went to lunch at Luserna San Giovanni (Casa Teiatori restaurant). Meal was very good and consisted of several antipasto dishes (see previous list) and ravioli. Very good! Then we returned to Torre Pellice and I went back to the store with the knives and bought 3 Italian ones (total – Euro 88). From there it was back to the house. After a ½ hour break, we went down to Liana and Omar's house where she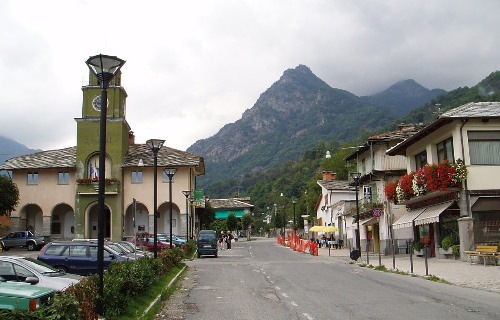 Bobbio Pellice. About 10 miles from the French border..
gave us the tour of their project. Home renovations in Italy are quite different than US ones due to the original construction of the older homes – mostly stone and old timbers. They have a large project underway, although it is nowhere near the magnitude of Stefania and Stefano's place. We will have dinner here at the house around 8:30pm. Not sure what is on our plans for tomorrow, although I know we do need to pack and get to bed early. The plan for Sunday is to get up at 4:30am and head for Malpensa. We need to be there by 8am and S&S say it is a 2-hour drive, but we want to leave adequate time to recover if we should get lost. Teddie and I agree that we will not fully relax until we are all checked in at Malpensa and sitting at the departure gate. But unfortunately, that will mark the end of our 2004 Italy trip (and our last real vacation before retirement).
Stefano, Teddie, and Stefania have breakfast on the terrace.
September 18, 2004
8:25am
I seem to be the only one up, although I suspect Stefano is out there somewhere working on stuff. Last night's dinner was enjoyable and quite different. Omar and Liana were with us and they had a heating device in the middle of the table. It had a hot plate on top, and little stations on the side. You would place little strips of meat or sausage on the warming plate to cook, and then put pieces of cheese in the warming station on the side. When the meat was cooked, you would place it in your plate and then cover it with melted cheese from the warming station. At first it was a little awkward, but you soon got synchronized and had plenty to eat. Everyone was moving here and there and joking, so it made for a lively meal. Stefano gave us a professional assessment of the wine (he has been to sommelier school) and Stefania kept everyone informed of the conversation with her lightening quick translations. After dinner we retreated to the sitting room where Omar showed their wedding pictures (they have only been married 2 weeks) on the computer and there were plenty of comments all
The setting for a fun and enjoyable dinner.
around. Omar and Liana are a very nice couple – he is lively and energetic, with a quick sense of humor. She is a little shy, but very friendly and had a quick and warm smile. Both were very nice to be with! I just now saw a shadow at the door and it turned out to be Numa, staring through the glass door, turning his head from side to side. A very friendly dog, but quite large and often very exuberant.
The weather yesterday was very good and today looks like another nice day – clear blue skies, no wind! Stefania gave me the little bottle opener I admired, so now I will hide Euro 5 in the house for her to find later. We joked about all this a lot yesterday. Stefano's car is diesel – seems that is often the engine of choice around here. Gasoline is about Euro 1.14 (a liter) and diesel is about Euro .90. There are 2 kinds of diesel – blue and regular. Blue is cleaner environmentally, but only newer engines can run on it. Stefano's car is older (93?) and
Stefano, Teddie, and Stefania outside Stefania's translation business.
requires the old fuel. We have not heard from Peppone again, so we know he must have been too busy to make it up to Roccalbegna before we left. We're very glad he was able to meet us at FCO when we arrived – it's always a pleasure to see him. Our bedroom has a little sitting room off to the side (I'm there now) which is pleasant – lots of glass and a couple of chairs and a table. A nice place to sit and read, or write in a journal!
Written later.
Began the day with breakfast on the terrace, and then prepared to head to town for some sightseeing. First we stopped at a pet store where they bought a huge bag of dog food for Numa, and I bought a little sign that says "Beware of Dog. Poodle on duty", or something to that effect. Then we drove to an open-air market in Pinerolo where we broke up into two groups (Teddie and Stefania, me and Stefano). I decided I'd like to have a vest with pockets, so Stefano and I began our search of all the little stands in the marketplace. Finally we found one that had them for Euro 7 and I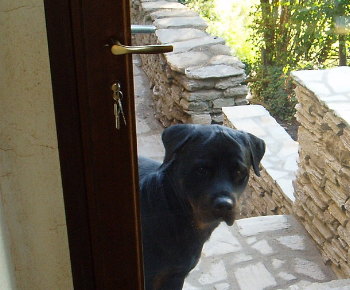 Numa checks up on us.
bought one! Seems like when I wear it, I blend right into the background - I even started calling it my "cloak of invisibility", because at one point Stefano was less than 3 meters from me and couldn't find me! As we started to leave, I saw some kids with a box containing puppies and kittens they were giving away. Stefania wanted a cat, so she chose one and we headed out - cat in pocket! We then went to the Pizzeria where we met Stefania's mother, niece, nephew, and sister. They were all very nice and treated us to a very tasty pizza lunch! Then we drove to a church on the hill where we had a wonderful view of the town from behind and I took several pictures. Finally it was time to return to S&S's where Stefano gave us a tour of the greenhouses and the property. He has done a lot of work in the area and it shows! Still plenty of work remaining, though. Later in the day we took a tour of Liana's house which is just below S&S's. Originally Liana had planned to renovate the place, but changed her mind after seeing how much time and expense it took S&S to do theirs. I guess someone might take on the challenge one day, but it will be a daunting task - the place is quite old. Afterwards we went back up to the house and Teddie and Stefania basked in the hot tub for a while as I arranged a lawn chair and enjoyed the view of the village below. A very comfortable and relaxing
Stefania, Stefano, Omar, Michael, Liana, and Teddie enjoy a toast.
day. I took a picture of Teddie holding an old rusty two-barreled pistol that Stefano said had been inside one of the house walls! He told us that when they tore down the wall, they found the gun in the rubble! Finally it was time to get to bed, as we planned to rise at 4:30am and begin our drive to Malpensa. Our much-anticipated Italy trip is quickly coming to an end.

9/19/04
We are finally sitting in our seats on the Milano-Newark flight, awaiting pushback!! We got up this morning at 4:30am, drank a quick glass of orange juice, said goodbye to Stefania, and headed out. Stefano was good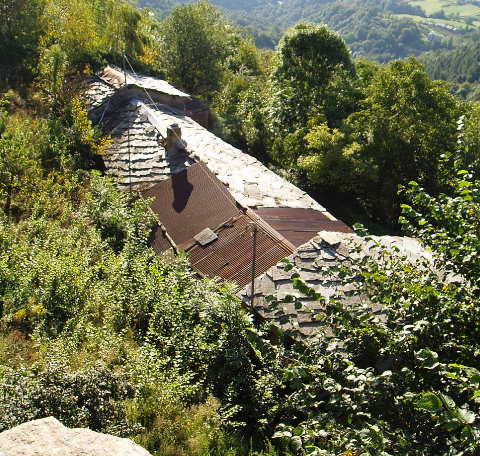 Liana's house below Stefania and Stefano's.
enough to lead us off the hill, through Bricherasio, past Pinerolo, and to a point where we could find our own way! He must have driven for almost an hour before sending us on our way and turning to return home! What a great guy! Once on our own, things went well for quite a while. But once we reached an area near Novara and south of Malpensa, we saw no signs to the airport. We continued almost all the way to Milano before we finally saw a highway exit sign that mentioned MPA! Then we took the exit, paid the toll, and immediately got lost! We zigged and zagged but nowhere did we see a MPA sign! It was time to grab the gps again!! Using it, we took a few country roads and eventually came out on the highway we needed to be on. When we reached the terminal, we were given a choice of Terminal 1 or Terminal 2 – I chose #1 and that turned out to be correct. We found the check in area, checked 3 bags, got our boarding passes, and headed for the gate. On the way we stood in line for some time to pass through security. When we finally went through, they told Teddie that her carry-on bag was too heavy!! It was the one with Grappa, wine, olive oil, and Vin Santo!! She had to take it all
This bush was actually FULL of insects.
the way back to the counter and check it in. We have no idea how it will survive the flight. (Note: As it turns out, everything survived the flight(s) just fine! We drank a bit of everything the other night and it was great!!) I waited for her on the other side of customs and she eventually showed up, highly stressed, but OK. While waiting for her I called Stefania to let her know we were almost there! It has been a long and difficult day so far and we're not even off the ground!! Hopefully the flight will be smooth and easy now.
Much Later
Well, we finally made the flight to Newark and it was very smooth. After a few days in New Jersey, we continued on to Hawaii and are now home again. Although it feels good to be home again, it's hot today and I already miss the cool weather we experienced on our trip. All the wine, olive oil, etc., made the trip fine, but we have not tasted anything to see how it endured the ride in the cargo bay. We will try some soon and plan to have an "Italian Night" for a few of our Hawaii friends – pasta, wine, cheese, etc. I wish I had a cooker like Stefania and Stefano so we could try that, but it would probably be difficult and expensive to find one locally. It seems like all too soon that our vacation ended, but that just means we had a good time. And it was all because of our very dear Italian friends
Tasty tomatoes in Stefano's greenhouse.
who made it possible. A special thanks goes to Andrea who let us use his apartment and did so many things for us in Roccalbegna. Also another special thanks to Stefano and Stefania for all they did for us in Piedmont. Additionally, we owe a debt of thanks to so many others who contributed to our vacation this year, as they have done in the past. They include, in no particular order, Peppone, Giulia (Andrea's mother), Mario, Violetta, Anna, Massimo, Vezio, Primina, Luciano, Zoe, Beatrice and Peter, Linda, Vito, Eugenia, the children of the school of Roccalbegna, their teacher, Daniela, Mr. Raffaello, Liana, Omar, and even Numa the dog. And there were others, too many to list, who we recognize and would stop us as we wandered around the village and convey their greetings to us. Also, although we never see him in Italy, a special thanks goes to Alberto, our Italian guardian angel who often works "behind the scenes" to help make our visits memorable. As always, our visit was a very special time and we anxiously look forward to the day when we may return. Hopefully our next trip will be in 2006 when we are retired, and will last for 2-3 months.

An Italian/American breakfast at Stefania and Stefano's.