ITALY 2010
This year we were in Italy from September 12th to September 21st. Most of our stay was in Roccalbegna, a place we consider very special. We did manage to get around a bit - a day trip to Grosseto and another day trip to Montalcino, but the rest of the time was in and around our favorite village. I tried to keep a daily log of our activities, and that is what follows.
Note: Clicking on any picture will open up a new window with a full-size version of that picture. Warning - most are over 1mb in size!
9/12/10 7:05am
First entry. We are descending into Rome now after an 8 1/2 hour flight from New Jersey. We're not as tired as I expected to be, but we still have a full morning ahead clearing customs, getting bags, picking up the rental car, and finding our way to Roccalbegna. The weather looks very nice at the moment, so we're looking forward to a pleasant drive and finally reaching the village. We have not been looking forward to the long travel but, now that we're here, we are anxious to see our friends again. It has been three long years since our last visit.
9:00am
We got the car OK and headed to the highway. This year it's an underpowered Citroen - I will not be thinking about buying one of these like I did the Focus after our last visit!! It seems Thrifty is closing down at Fiumicino, so their customers are being sent to Europia. I asked if we would get the same price that Thrifty quoted, but he said that, unfortunately, would not be the case. As it turns out, the car
was actually cheaper than it would have been with Thrifty, so I'm happy. Also we discovered that we did not bring any Italy maps, despite having an extensive collection of them! Seems that each of us thought the other was taking care of that detail! We did bring a gps, but the mapping on it can be difficult to interpret. Finally made it to Roccalbegna (only took one wrong turn.....) and were happy to see Andrea, Rosy, Francesca, and Luciano waiting in the piazza for us. They all look great and it was so nice to see them again!! They helped Teddie with the bags while I parked the car across town and joined up with them at Anna's apartment. I came across Violetta and Giulia sitting in the Piazza on the way back and visited with them for a few minutes. We have been invited to Andrea's house for dinner at 1:30pm, so now we are resting up a bit before we go.
8:30pm
Caught a quick nap this afternoon and it felt good. Zoe called and we arranged to meet her at the Piazza at 7:30pm. She was there, along with her mother and sister, Giulia (who has grown so much since we saw her last). It was so great, seeing our "Swiss/Italian daughter" again! She looks terrific and is enjoying her travels a lot. It's amazing how different so many of the young adults in Italy are from the ones back in the States. We chatted for a while and then it was time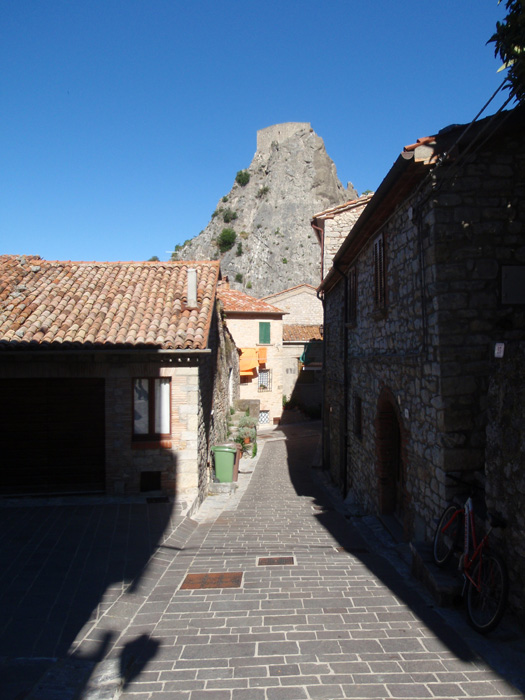 for her to say her good-byes to everyone, as she leaves for Nepal tomorrow, so we said our sad good-byes and then returned to the apartment for the night. At this point we have no idea when we will see Zoe again, but she is good about keeping in touch via email, so we know we will be hearing from her as she moves from place to place. The village is now on night 2 of a 4-night festival and there were many people in the piazza. We would have enjoyed staying and visiting, but are just too tired at this point. We will be better tomorrow!!

9/13/10 11:40am
A restless, sleepless night, but we're getting better. This morning we went to the store (Simonelli's) and Teddie got a few things. Today we saw Vito, Mr. Rafaelli, Allesseo's father, Angela, Franca, Pierpaolo (who is getting married soon), Luciano, and Primina. We chatted briefly with Chiara on the phone - they will be here on Saturday. Vezio was not feeling well so we have not yet seen him. We are now at the crash site and I am sitting on the bench as I write this. The area has changed much - many trees are down - but the site and the memorial remain in good condition. I hope to return and clear a small path in the next few days. We had difficulty finding the site, but eventually spotted the marker I placed on the tree several years ago to designate the old path. Weather is great and we are so happy to be here.

2:45pm
Now sitting on the bench at the "Rancho". The property looks very nice! Someone (we found out later it was Mario and Andrea) has mowed it and cut back the blackberry and small trees. I walked the circumference with the gps and spent a bit of time at the stream, while Teddie waited for me at the bench. The plums are ripe and the olives are coming along. One year we should plan to be here to participate in the olive harvest and processing. We stopped at the Co-op in Santa Caterina on the way back from the crash site. Teddie bought more groceries and I got a pair of work gloves to help clear a trail to the memorial. Saw Vito and Angela at the piazza - they haven't aged a bit!
7:10pm
Back at the apartment for a while now. Went by Andrea's and saw Rosy and Francesca briefly - they were getting ready to leave for a Dental appointment. Rosy invited us over for dinner this evening and said Andrea would have a friend there. I know our friends lead busy lives, so sometimes I feel we are intruding, and I hope our friends will let us know if this is the case. We phoned Beatrice and will drive up there tomorrow for lunch and a visit. It has been several years since we were at their house. We stopped at the bar on the way home and had an ice cream. Saw Luciano with his friends - sometimes it seems like we see him all over town!! Also, we saw the fellow from Monte Bello whose name I can never seem to remember (Giuseppe Cirillo). Nice fellow - he is no longer at Monte Bello, though. We are starting to plan our days - only 6 of them left already. Three have activities planned and two will probably be taken up (Grosseto, Montalcino) so we need to use our remaining time wisely. Weather is clouding up this evening, but still dry. I did not bring raincoat or umbrella, so we're hoping for no rain.

9:10pm
Just returned from dinner at Andrea's. Met their friend, Don Carlo, who is giving a talk at the chapel tonight. Also, briefly met another friend who is a retired fireman (Ariberto Margiacchi). He spent 25 years working as a firefighter (around Rome, I believe), and he feels that was enough. Nice fellow. Teddie was feeling poor with a little upset stomach so she ate nothing - I sure hope she gets to feeling better tomorrow. We are now settled in back at the apartment and will relax and plan our days ahead. Paolo (a Geocacher from Grosseto) sent us an SMS with his coordinates, so we will try to find him there in a couple of days to give him the geocoin we got for him recently. He gave us an Italy geocoin three years ago and we have been looking for an opportunity to get one to him.

9/14/10 9:20am
Another beautiful day, although the wind is up a bit and Teddie saw lightning last night. We're finishing up breakfast now and will head towards Beatrice's in another hour or so.

4:20pm
We had a delightful lunch with Beatrice and Peter at their home up in the hills. Zoe gave me directions the other day, so we had no trouble locating it. Because the "driveway" was a bit steep and rough, Beatrice instructed us to leave our car at the (yellow) gate and walk on down. Beatrice knows quite a bit of English, so we never had to reach for the little dictionary. Even Peter is speaking some English now! During our visit to their house several years back, he spoke very little, but this visit was quite different. They are very nice folks, as I would expect - judging from Zoe! It was great spending some time with both of them and the lunch was very tasty! After we left, we went to the crash site and I cleared up the trail to the monument (while wearing the yellow and white gloves that I bought at the Co-op) as Teddie relaxed on the bench. Then we sat for quite a while, enjoying a little quiet time at this special place. Upon returning to Roccalbegna we ran across Andrea, Rosy, Francesca, and Vito. They told us that we are invited to Mario's Cantina tomorrow at 7:30pm and Vito's Cantina on Friday at 7:30pm. They laughed when I had to write it in my little notebook, but I know it will all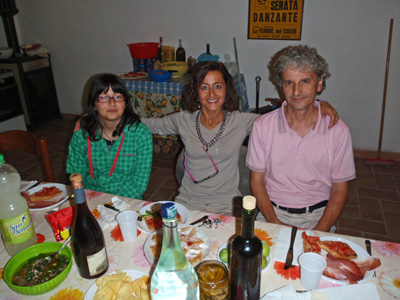 get confused if I don't. Now we are back at the apartment getting some rest and will leave to join the festival at around 6pm. Teddie is still not feeling well, and all the activity is wearing on her, so a little rest will do some good. Tomorrow we plan to drive to Grosseto and find Paolo, the Geocacher. Then we will look for some caches on the way back to Roccalbegna.
8:35pm
Went to the festival this evening. We watched the procession and then they did the lighting of the balloons. The wind was up but the first balloon got airborne without too much difficulty. However, it went South, over the village, instead of the usual direction, so it was quickly out of sight. The second balloon caught fire before launch and burned up on the ground, sending everyone who was downwind scattering! Good fun, but we were very relieved that no one was hurt. We saw Anna tonight. Also Benedetta,
Serena, and Sergio. We also met one or two who I remember seeing before, but cannot recall their names, despite my best attempts to write everyone's name down. Also, we finally saw Mario, and Teddie saw Giulia and Violetta. Then we ran across Massimo and Francesco before the procession and it was good to see them again. The stage was lit and they were preparing to put on a play, but Teddie decided she had had enough activity for one day so we returned to the apartment for the evening. Being in the piazza and seeing everyone having such a good time was very pleasant. We always plan our trips around the 14th of September Festival because it is such a happy time for the village.

9/15/10 9:15am
Another beautiful day outside! And, no wind! We are finishing breakfast and will head to Grosseto in a little while. Should be a great day to do a little driving.

7:00pm
It was a most pleasant day. We drove to Grosseto, found a tiny parking place outside "the wall" and then managed to find Paolo's shop via gps. We met him and his wife (a very nice person) and spent a while chatting about our visit and some local geocaches. It was good to see him again and we hated to leave, knowing it will probably be a few years before we return. Paolo is the premier Geocacher for the area, so it was fun discussing some of the local finds. We managed to find our way back to our tiny car (we had a gps waypoint as a backup, but did not need to use it). Driving out of Grosseto was a challenge, but our gps finally helped show us the way. We managed to find a couple of geocaches on the way home, although one had a wasp nest right next to it, so we left that one alone. Eventually we reached the apartment and I stopped at the bar for a gelato. Once home, we caught a brief nap and afterwards went out to explore some of the back alleys of Roccalbegna on foot. The village is a beautiful place with an interesting mix of the old and the new - stone-crafted homes hundreds of years old, many with satellite antennas! We enjoy the nooks and corners with stone stairways, arches, and unique doors. People here leave bicycles unlocked and door keys hanging from their locks. We did notice some graffiti in the dust on our car window this morning, but that was probably just the work of kids leaving the festival last night. Teddie is still feeling
poorly from time to time this trip and I'm hoping she gets better soon. The other day she was unable to eat anything at Andrea's, much to our hosts' concern. And now she is having stomach pains and we are less than an hour from going to dinner at Mario's Cantina. Vacations are much less fun when you're feeling poorly!
10:15pm
We just back from Mario's Cantina. In attendance were Andrea, Rosy, Francesca, Mario, Vito, and Luciano. Teddie did not eat much because of her stomach, but the food was very good and plentiful. Because Teddie always enjoys the making of the wine, Mario once again arranged a partial barrel and we watched as he drove in the spigot. They then put the grape skins into the press and Teddie and Francesca took turns at the lever. As is always the case, we very much enjoyed being with them, tasting of their food, and seeing them interact. I often feel blessed for having such wonderful Italian friends. Making a small batch of wine before its "real" time is a lot of trouble, but they don't seem to mind doing it, knowing how much Teddie enjoys seeing the process. Andrea said they will be expecting me at the school tomorrow at 11:30am. It is always nice to see the children and meet with the teachers, so we're looking forward to it.

9/16/10 3:20pm

Back at apartment again. Slept late - 9:30am - I am still not adjusted to the time changes! We went to the school at 11:30am to speak to the children. School Superintendent (Saverio Renzi - played ping-pong with last visit) was there, as was Naomi Corridori's granddaughter who translated for us several years ago. (I asked about Naomi and her granddaughter said she was well, but does not live in the area anymore). We visited the classrooms and fielded a few questions and the Superintendent explained the purpose of our visit to the children. It was a good visit - we are always happy to see the children and hope our appearance helps keep alive the memory of my father's accident. Afterwards the Superintendent came with us and we went to Andrea's for lunch. When we were finished, Rosy arrived home from work and we all visited for quite a while. She showed us all the work Andrea has done on the apartment and it was quite impressive! He completely remodeled the second and third floors and they look great! At the school the
children gave us flowers (in a pot) and a greeting card they all signed. We have asked Francesca to be the Custodian of the plant, and will bring the card home and find a good way to display it. Now we are going to rest for a bit and then we plan to climb to the fort at the top of the rock. (Note: Officer Citterai - a very pleasant gentleman with an extensive law enforcement background. We chatted with him for a while at the school - he speaks a little English, and understands it fairly well. Very friendly and polite.) (Note 2: School Superintendent Saverio Renzi. Was quite enjoyable being with him - he knows some English and is very outgoing. Seems to have a good sense of humor and is looking forward to traveling after his retirement in August 2011. He gave us an invitation to his place one day this weekend, but we had to decline as we will be meeting with Moreno and Chiara as planned earlier. Does not like to fly, so all travel will be by train/boat/car).

8:30pm
The climb up the rock went well. We went up the steep street by the bar and returned via the winding path that leads to the school. Teddie searched for a geocache we found on the rock during our last visit, but was unable to locate it. Later we decided to walk to La Grotta for dinner but discovered they were closed. Went by Simonelli's to pick up something for dinner and ran across Andrea, Rosy, and Francesca doing a little shopping. Then it was back to the apartment for a quiet evening.
Tomorrow we plan to drive north and spend a little time at Montalcino. In the evening Vito is throwing a party in his Cantina and several people are expected. Cantina parties are always a good time, and our friends seem to enjoy hosting them. Already we only have three days remaining and they are passing quickly!

9/17/10 4:00pm
A day of playing tourist. We were up by 8:30am and soon under way towards Montalcino. We tried to find a geocache on the way, but were unsure of the coordinates and drove around the area for a while before giving up. Then we continued on to Montalcino where we strolled the narrow streets, ate lunch at a sidewalk cafe (same one we always eat at) and bought a few trinkets before hitting the road again. Stopped at an Abby on the way and found our only geocache of the day. Continued down the many winding roads until reaching Roccalbegna where I had my "daily gelato" and then returned to the apartment. Saw Vito briefly at the parking area, and then Andrea, Rosy, and Francesca in front of the bar. We will join them this evening and and walk with them to Vito's Cantina. But now it is time for an afternoon nap. Driving these roads is most enjoyable, but does make me a little tired!
11:10pm
Home from Vito's Cantina just now - what a wonderful time! There were about 18 people there - almost all of which we had met before. I ate and ate until I thought I'd bust, the food was so good. There was a lot of talk and
laughter and eventually Vito turned on his keyboard and played while several in the group sang. After a while he played several American songs and the gang sang along as best they could. They struggled a bit with the English lyrics and the pace of the song, but we enjoyed their efforts immensely. It was loud and boisterous and everyone was having a good time. Many times this evening (and throughout all our visits) I felt so lucky to have such great friends!

9/18/10 10:30am
A very quiet morning in the apartment. We are doing a little laundry (just enough to get us back to NJ) and relaxing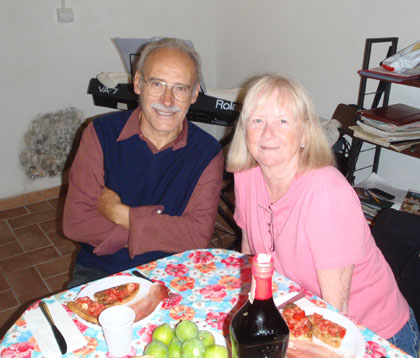 in the kitchen as the Candy churns away, making its mysterious noises, interrupted from time to time with periods of strange inactivity . Later today we hope to run across Moreno and Chiara, but are not sure when they will be arriving. Meanwhile, I would like to pay another visit to the crash site or the Rancho (or both?). We have been here for several days now and still have not seen Vezio. We hope he is OK. Chiara told us on the phone the other day that he was in pain (his arm) and they hope to find treatment for him soon. Still, it has been very unusual to not run across him from time to time in the village, and we miss that. Our visit is coming to and end soon - only one more full day in Roccalbegna before we head for the Corsi Motel near the airport! Although we look forward to being at home again, leaving this special place is never easy for us. They always ask when we will return, but we never really know. In the 14 years we have been coming here, we have seen many changes - some people have moved away, some have died, some divorced, and so forth. The children have grown up and the parents have grown older. Time marches on.

2:35pm I am sitting outside the chapel on the hillside above Vezio's. After lunch Teddie wanted to take a nap, but I was feeling restless so I explored around town, climbed to the fort on the rock, crossed town, and then climbed to the chapel. It is probably good for me to walk off some of the food from last night. We're looking forward to seeing Moreno and Chiara again - if not today, then at 1:00pm tomorrow. In a while Teddie and I will drive to the crash site to finish a little clean-up and get some rest.
10:10pm
Had a lovely dinner with Andrea, Rosy, Francesca, and their friend, Graziana. It was a comfortable evening as we exchanged stories and spoke of different things. They invited us to dinner tomorrow at Giulia's, but we had to regretfully decline as we will be at Vezio's. When we told them this, Andrea zipped out for a moment - presumable to tell Giulia to put a halt to any preparations! After dinner, Francesca showed us a video she made on the computer with pictures from the Cantinas and sound that she added. She did a very good job, and seems to have a good understanding of computers!
9/19/10 10:10am
The weather outside is ranging from cloudy to bright and sunny. But it looks like the sun will win out and we'll have a very nice day. We have been relaxing over a late breakfast and will head to Vezio's in about an hour. Teddie did some laundry yesterday but it is still damp. She has moved it from inside to outside and back a few times (as the sun came and went). If it is not dry in the morning, we may have to resort to the hair dryer to finish it off. We have had several people ask why this visit is "so short". Compared to previous visits, it is a couple of days shorter, but no more. We feel it is best to leave before our hosts tire of our presence, because we how how disruptive it can be to have company in the area. Poor Rosy - she has been entertaining us while maintaining her job in Grosseto and keeping house here in Roccalbegna. The same for Andrea. We owe them both so very much for their hospitality.
5:20pm
Lunch (dinner?) at Vezio's was very pleasant. In attendance were Moreno, Chiara, Isotta, Jacopo, Vezio, Primina, and Don Valentino. The food was delicious (as always!), but more than that, we enjoyed visiting with Moreno and
his family again. They took us to a house near Anna's that they are buying and we looked all through it. It's definitely a fixer-upper, but we think it has excellent potential - many rooms, and several levels of terrace that encircle two sides of the place. It will take a lot of work to clean it all up (and $$$), but if Moreno is able to achieve results like Andrea did at his place, it should turn out great. We spoke of many things at dinner and enjoyed ourselves immensely. Isotta's English is good and she told us of her experiences at John Hopkins during her research. Jacopo spoke with us a little less, but I suspect his understanding of English is probably very good. Vezio did not talk much at all, and the effects of Parkenson's was evident, but he seemed happy to see us and we, of course, were glad to be able to spend some time with him. Teddie has been very concerned about him and felt quite emotional when we first saw him this visit. Finally, we decided we should leave so they would have some time together before Moreno, Isotta, and Jacopo returned home this evening (Chiara is staying to take Vezio to the doctor this week). Just before we left for Vezio's this afternoon, Rosy and Francesca came by and invited us to their place for pizza at 8pm. It will be our last meal together as we will be packing tomorrow and then leaving around 3:00pm. Although we are looking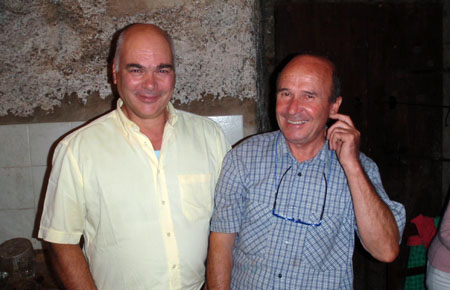 forward to being home again, it will be very difficult to leave our friends and this special place.
10:15pm
We had a wonderful time with Andrea, Rosy, Francesca, and Mario this evening. We all walked to La Grotta and had pizza for dinner. Rosy is learning to speak and understand English pretty well, so she was the primary "translator" for the group. I wanted to slip into the kitchen and pay the bill before we finished, but the waitress spoke no English, so I did not try. As it turns out, Andrea did that before dinner was done, so we had no chance to contribute to the meal! After dinner we walked back to the piazza where we said our sad goodbye's to Rosy and Francesca. Originally we were going to leave Roccalbegna around 3pm but decided it would be better to leave around noon so we wouldn't be quite so rushed. We were sad to leave Rosy, but she has promised to email and that will be nice. Although we have only seen her during our last two visits, we feel she is a special friend now. Enthused, energetic, and enjoys practicing her English! Now I need to get to bed - busy day tomorrow (and the day after)!!

9/20/10 9:00am
Time to prepare for departure! It is a perfect day outside this morning - blue skies, calm winds, clear air! Sometimes it is raining when we leave and sometimes it is clear - I'm not sure which I prefer when departing. It has been a great visit and w
e will miss everyone. We will pack this morning and then go by Vezio's to say goodbye to them. Then we'll load the car and wait for Andrea at his place at 1:30pm. Then it's on the the Corsi Motel and goodbye for now to our Roccalbegna!

9/21/10 10:30am (Italy)
We are now airborne and on our way to Newark. A long flight ahead of us (~9+30)!! The drive to Rome yesterday went fine, although it seemed like a long way. We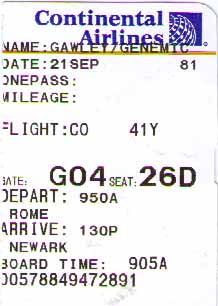 checked into the Corsi and relaxed for a little while. Then it was off to Moreno's for dinner with he, Isotta, and Jacopo (Chiara was still in Roccalbegna). We had a pleasant dinner and conversation, but had to leave earlier than we would have preferred so we could prepare for today's trip and get some rest. As it turned out, I found a tick stuck to my side just when we were getting ready to go to bed, so that kept us up for a while. Teddie pulled it out, but part of it stayed stuck in me and I had to remove that with my pocket knife. Ouch! Yesterday, when we were ready to leave Roccalbegna, we first went to Vezio's to say our goodbye's to Vezio, Primina, and Chiara. Then back to the apartment to fetch the bags. We walked our luggage all the way to the car (saw Violetta and Giulia on the way) and loaded them in the back of the little Citroen. Then we parked at Andreas and waited to give him the key. Vito and Luciano wandered by while we were there, so we said our good-bye's to them. Andrea showed up at exactly 1:30pm so we gave him the key, thanked him for all his hospitality, and quickly left (I so much hate saying goodbye to friends). Although this was a relatively brief visit, we feel the time was about right. Teddie spent time at her mother's prior to the trip and I will spend a week or so in New Jersey before returning to Washington. We will both be glad to be back home again!

Want to see more pictures? CLICK HERE to go to my Picasa site where you can view ALL the pictures from 2010 (plus a bunch of others).
---
11/9/2010 A follow-up! Yesterday Teddie and I spoke with the children in Isabella's class about corresponding with the children in Roccalbegna. They seem to be very enthused about the idea, so we hope it will be the beginning of a great experience for the all the children involved! The transfer of letters should begin shortly and I will post an update here after the program has been in effect for a while.