Italy 2014

9/10/14 First entry! We are now on United flight 41, about halfway between EWR and FCO. We spent almost a week in NJ before heading to Italy and will be in Roccalbegna until the 19th.

Got off to a bit of a rocky start. Yesterday I decided that I must have forgotten our Italy phone so I contacted Alberto for advice. He came up with several suggestions and I decided to choose the one that had Verizon activating my iPhone for international use. Then, this morning I found the Italy phone hidden in a corner of my luggage. So maybe now we will have two phones.

Rob was out of town so Laura drove us to the airport and we made it in good time. Now we are anxious to land
Waiting to board the flight!
in Rome, get our rental car, and drive to Roccalbegna. It has been 4 years since our last visit so I hope I remember how to get there! We did bring the gps just in case!
9/11/14 6:40am (Rome time) We're now about one hour out of Rome and the sun is starting to rise in front of us. We are approaching the Dolomites - always a very strange sight with many mountains protruding up through the clouds. Also, another airliner just passed below, left to right, about 2,000' from us.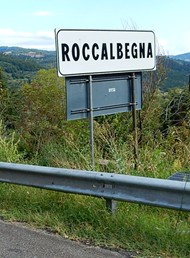 Welcome to Roccalbegna!!
6:30pm - We are now in Roccalbegna! The flight was uneventful and the line at customs wasn't too bad. Our bags were on the conveyer when we got there and there was no line at the car rental counter. It took a few hours to drive to Roccalbegna but we made it fine, although tired! Francesca met us and brought us to the apartment where Andrea and Rosy had stocked it nicely with the essentials. We saw Franca and Pierpaolo, and later Teddie went out for groceries while I slept and she also ran into Don Valentino, Luciano, and Eugenia. We went out later to buy milk and cereal and met Pierpaolo's wife at the store - she's very nice.
Francesca said we are invited for dinner @ 7:30pm, so we will be leaving here in a while. We're very much looking forward to seeing Andrea, Rosy, and Giulia again!
9:30pm Just returned from a wonderful dinner with Rosy, Andrea, Francesca, and 4 cats! Food was great - seeing everyone again was fantastic. We did have a chance to visit briefly with Giulia (she's bedridden now). Violetta and Mario were at Giulia's too. Francesca is doing well with her English and Rosy does pretty good too. Andrea speaks as much English as I speak Italian, so the women did most of the conversing. [Note: we were very saddened to learn that, a while after we returned to the US, Giulia passed away. She was a wonderful woman who always had a smile for us and will be greatly missed by all who knew her.]
Teddie stocks up on a few groceries
I've only had a brief nap in the past 24 hours, so I will sleep well tonight.
[Strange little water heater in apartment - draws liquid fuel (kerosene?) from a 5-gallon can. Francesca showed us an extra can of fuel if we run out (we didn't)] Also - new linen, couch, and mattress in apartment. Very nice.
9/12/14 7:30am Clouds in the sky but sun is shining. We will go to the crash site this morning to check on things. Rosy told us last night that the bench is gone! At least it endured for several years before someone decided to take it. Slept on and off all night. Still getting adjusted to the travel and time zones.
12:40pm After breakfast we went by Andrea's and downloaded our email via Rosy's wifi, then we drove to the crash site.
- bench is gone
- monument OK, but aging
- gravel road is very rough
- woods are overgrown; path to monument gone
- huge horse flies, but they usually don't bite
A panorama view of the lower level of Anna's lovely apartment
A very special place for me
Then we drove to the general store in Santa Caterina and picked up some supplies. Lots of old ladies standing around talking - most people sort of glared at us. Teddie got into the car and realized her wallet was gone. She rushed back and found it on the ground where she had dropped it - lucky!!
It has been raining today so we will postpone our trip to the Rancho. Just finished lunch and will go to say hi to Vezio and
The Monument -
Here for 18 years now!
Primina soon.
5:20pm Went by Vezio's but did not see him. He took a fall a week ago and injured his back and the "Doctor" (an attractive Italian woman) was examining him. We did see Primina and Chiara and Moreno, but did not stay for long because we knew they had to care for Vezio - possibly a trip out of town to be x-rayed. We walked to an area just west of town that suffered a large landslide back on January 30th. The road was closed for 4 months! While there, Andrea and another man, Vincenzo, came by. They drove us up the hill where we could see where the slide began. It was a huge mass of material but, fortunately, no one was hurt. Vincenzo seemed like a nice guy and a good politician - likes to talk. Peppone called today and said he might come to Roccalbegna tomorrow. Teddie answered the call and did not recognize "Giuseppe" so I called him back and chatted for a few minutes. We hope he comes - it has been several years since we last saw him. Moreno says the weather is improving and should be good for at least the next several days.
Andrea, Rosy, Francesca, Teddie, and I enjoy some time together
The main street through town.
Only room for one car at a time!
[This trip's rental car - Fiat Panda - underpowered and sluggish].
9/13/14 8:30am The sky is clear and the sun is shining! This is the weather we remember! I had a very fitful night, concerned about this afternoon's festivities and any involvement expected of me. We shall see how it goes. No call from Peppone last night so I'm not sure if he is coming to Roccalbegna today or not. We very much hope to see him but realize it is a long drive to Roccalbegna from Rome. We are finishing breakfast and will walk to the back of Andrea's house where we get a wifi signal and download/upload our email.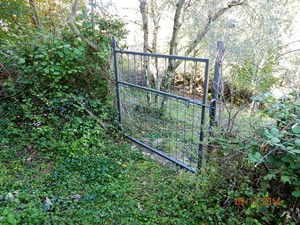 The gate to the property looks great!
Someone repainted it recently.
9:40am Went to check our email but could not get a wifi signal at Rosy's. Went to Franca's and bought some food and then to the hardware store and purchased a bulb to replace the one in the bathroom that burned out. Now we are back in the apartment and Teddie is waiting for her meds to settle in so we can do down to the Rancho. Saw Eduardo Simonelli while we were at Franca's - he looks good.
4:20pm Teddie and I went to the Rancho for a while - it looks great! Andrea and/or Mario must have been working hard on it. As soon as we returned from there we got a call from Peppone saying he had just arrived! We spent the next several hours chatting and wandering around. At one point I brought him down to the Rancho for a look-around. He does not have a job now and that concerns him greatly, so we hope something works out for him soon. He drove all the way up from Rome to see us and is now on his way back. The games have begun up near the north Piazza and the kids seem to be having fun. We saw Monica and she explained what will be taking place this evening and it's nothing for me to be overly concerned about. We will return to the piazza at 10pm and they plan to give me flags from the 4 area quadrants. Meanwhile, Teddie is trying to figure out what to do about dinner as they apparently are not going to be serving sandwiches tonight as she thought.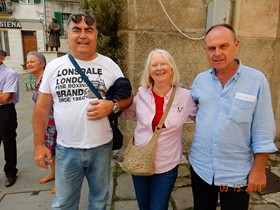 Peppone, Teddie, and Vincenzo
11:55pm Returned from the piazza - they had an excellent band! During break, Vincenzo presented us with flags from the quadrants - it was very nice. We finally came back to the apartment at Teddie was cold and I was tired. [Rosy and Monica - two dancing machines!]
Monica
9/14/14 8:15am Another clear day! Today is the main festival and I am especially looking forward to the fireworks at 10pm. They did not have them when we were here in 2010 - not sure what the reason was. Other than the festival, we have nothing on the schedule. Teddie wants to go to Montalcino but we will probably do that tomorrow. So far, we have seen many of our friends from previous visits and it has been very enjoyable. [Teddie danced with the girls and Angela especially enjoyed it] [Vincenzo and friend have 2 Westies]
9:20am Just returned to apartment. Went to check email but no connection so I decided to climb the rock before it gets too hot. Beautiful view - bella vista! Saw Luciano - TWICE - in town! Teddie is still in bed, but awake. Also, saw Benedetta on the way up the hill. I thought I saw Mr. Tiberi on crutches - will have to ask Andrea about that. Saw Anna today and spoke with her briefly.
Luciano enjoys a walk around the village with his toothless beagle
9:50am Teddie is loading the "Candy" (washing machine). It's always interesting listening to it squeak and groan.
[Luciano's dog walks around with his tongue hanging out. Luciano said it's because the dog has no teeth]
4:45pm We drove to Semproniano to chase down a geocache this afternoon. We found it by a roadside near Rochette and then went back to Semproniano and had lunch in a restaurant in town. When that was done we followed the twisted road back to Roccalbegna and put another load of clothes in the Candy. Now we're just hanging out in the apartment until the festival starts up again. First order of business is the procession, which I may take a few pictures of, and then is the launching of the balloons which I would never miss. Fireworks at 10pm - can't wait!! [Vincenzo's friend --> Patricia]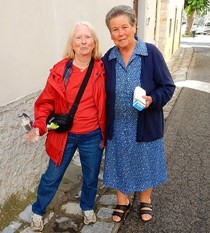 Teddie and Angela
10:35pm Just returned from the fireworks - THE BEST YET!! They were constant, BIG, and *LOUD*!! We had a good time at the piazza and saw a lot of people we know. Even Stefano was there with friends and we chatted for a long time and he put Stefania on the phone for us to talk with. Met a man who was an officer in WWII (Italian?) but could not chat as music was too loud. Maybe I will see him again [regretfully, I never did]. It was a very nice evening in the piazza!! Tomorrow we go to Montalcino and in the evening we have dinner with Moreno and gang.
[Loretta - cousin of Stefania]
9/15/14 9:10am Another nice day out there. This morning we're off to Montalcino. Italians say this has been a very wet summer. As such, many crops are not doing well, roads have shifted, and, to the west of town, they had a massive landslide back in January.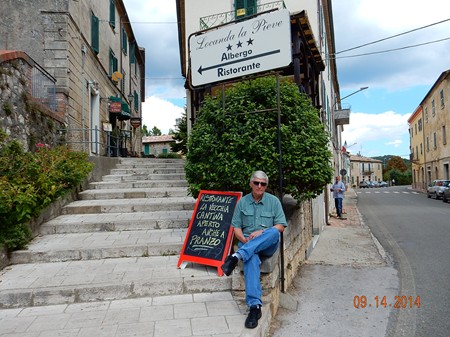 I try my best to look cool in Montalcino!
5:00pm We returned from Montalcino a while ago - very nice day trip. Teddie bought some wine and souvenirs and I bought another pocket knife and a basic wallet. The ride out and back was windy, but I enjoyed the drive despite Teddie's tenseness. Still, she's better than she used to be and no longer yelps and squirms at every turn. We walked over to Franca's a little bit ago and bought milk, soda, potatoes, and bread sticks. Now we are just hanging around the apartment - Teddie is working on her embroidery and I'm catching up on this log. In a couple of hours we will go to Moreno's for dinner. [Adriano Pagani - friend of Moreno's]
9/16/14 6:40am Up early to ride the school bus to Arcidosso so we can speak with the students. We had dinner last night with Moreno, Chiara, Adriano, Jacopo, and Stefania - very pleasant! Did not get back until 11:45pm and then got little sleep. This afternoon---> nap time!! Was great chatting with the group and we hated to leave but had to try to get some sleep. Used phone for alarm but it kept making noises whenever a Sequim Fire Department text came through. Teddie said she got NO sleep, so she should be interesting today.
Jacopo and Stefania
11:55am It has been interesting! While walking through the piazza early this morning we came across Andrea and Francesca driving on their way to school. After a confusing few minutes of talking with them, we discovered that today is NOT the day we go to the school! Apparently we got our wires crossed and when Andrea told me "tomorrow at 7:30", he was referring to 7:30 tonight when we meet he and Rosy for dinner at their place! Not speaking the language can make for some interesting situations. It was OK, though, as we were both very tired so we came back to the apartment and went back to bed, just now rising. Now we will eat lunch and then maybe seek out Moreno for a tour of his home construction project. Weather today is once again PERFECT!
2:45pm Just returned from a drive to the crash site. Area has many horse flies, but they seemed to lose interest in me quite quickly. Took lots of pictures, including a few panoramas. Stopped at the gas station in Santa Caterina but it's now self-service and I couldn't figure it out. After parking in Roccalbegna I walked to the bar and got a gelato. Saw Ariberto and talked briefly with Mr. Tiberi. All I could understand is that Allessio is in Bologna. Then saw Francesca and chatted for a few minutes. On the way out I ran into Andrea and confirmed that we are still on for 7:30 tonight. He was feeling badly about this morning's mix-up, but it was not his fault. [Roads outside of town are getting in bad shape - lots of stress grooves. We think it may be because of all the rains they have had.]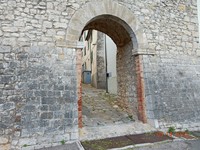 Part of the original wall
4:30pm It has been raining on and off since I returned. Several loud claps of thunder! We went by Vezio's and visited briefly and then everyone but Vezio and Primina went to Moreno's house under construction. They have done a lot of work, although much work remains. Chiara said it is hard for her to visualize it in its completed state. Moreno had a tablet computer with architectural drawings of the finished work and it looks great. Workers were pouring cement but got rained out. Next up is dinner at Andrea's at 7:30pm. [We saw Ricardo briefly last night. Parkinson's is taking its toll but he is still getting around. GF/wife (?) - Patricia]
11:05pm Back from Andrea's. Had a wonderful time with them and their cats. Food was very good and they are very nice company. Andrea said Vito wants us to come to Cantina on Wednesday night, but we told him we would be having dinner with Moreno so he called and Vito changed to Thursday. When we got home, Chiara sent a text asking if we could switch dinner to Thursday. So now I'm trying to see if Vito can go back to Wednesday so this will all work out. Only two more full days here - the time is going by too quickly. [Rosy gave us a tour of the upstairs of their place - very nice!! Andrea has made big improvements to all 3 floors]
A classic view from the fortress
9/17/14 9:15am Weather looks nice so far but we have seen how quickly it can change. I think the Vito Cantina vs. Moreno dinner may finally be sorted out. I went out this morning to download email and ran into Vito and Luciano in the piazza and asked Vito if we could switch Cantina back to tonight. He called Andrea and they said tonight would be OK - he even indicated that tonight would be best, as he has stuff he needs to do tomorrow. So..... Cantina tonight at 7:30 and, maybe, dinner with Moreno tomorrow.
Massimo and Teddie
1:25pm We drove to Santa Caterina before lunch to buy some food and noticed a car at the gas station so we pulled in and the attendant pumped the gas for us ( € 49.00 @ € 1.85/liter). Returned to the apartment and had lunch and then I went out and climbed the rock and came down the back way past the school. Ran into Primina and then talked with Chiara and Jacopo - they are going to come by after lunch and say goodbye as they (Jacopo and Stefania) are leaving Roccalbegna this afternoon. We continue to see some of the same people on the streets - especially Luciano and, to a lesser degree, Angela. They are both such nice people! Tomorrow morning we will meet Andrea at the Roccalbegna school at 8:15am and then at 9:30 we will ride the school bus with him to Arcidosso. Then tomorrow night we have dinner with Moreno and Chiara. A busy last full day for us. On Friday we plan to pack and clean the apartment and be on the road by 12:00pm.
6:20pm Been a quiet afternoon here. Jacopo and Stefania came by a while ago to say goodbye as they were heading back towards Rome. Teddie and I pretty much lolled around the apartment - watched a movie on the tablet and went behind Andrea's to check our email. In another hour we head to Vito's Cantina (I hope we can find it). Only one more night here after today.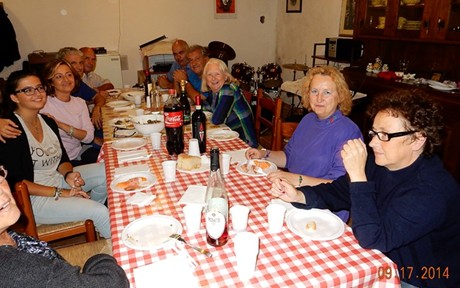 An enjoyable evening at Vito's Cantina
10:50pm Just returned from Vito's Cantina - what a wonderful time. In attendance - Vito, Benedetta, Rosy, Andrea, Sergio, Francesca, Mario, Luciano, Eugenia, Angela. The food was excellent and the conversation fun. At the end of the evening, Vito played the accordion and they all sang Italian songs. Some of the music was old and sounded like something from the movie, "The Godfather". Such a good time - we are very thankful for our generous Italian friends! Now it's time to get some sleep - we are to be at the school at 8:15am!
9/18/14 1:15pm Back from Arcidosso! We met several of the teachers, saw a nice video they made, and then met with the students (2 separate groups). I explained who I was and why I was here and then told the story of my father's crash and my eventual search for
Teddie, Chiara, Moreno, Andrea, Francesca,
and Rosy

the site. The students had a couple of questions, but not many. Andrea drove Teddie and I to Arcidosso in his car - not sure what happened with the school bus plan! Earlier in the day we walked to the Roccalbegna school where we met the teachers and were introduced to the students. This is where they showed us a video. Then Andrea drove us to Arcidosso. On the way home from Arcidosso we stopped at Santa Fiora and met briefly with Rosy at the hotel where she works. Andrea's driving was, I suspect, considerably milder than usual for our benefit. Teddie even fell asleep in the car on the way home. I think she is getting worn out by all the activity even though she enjoys being here very much.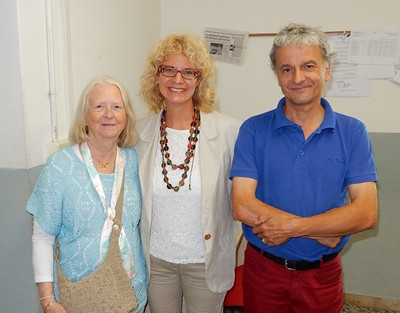 Teddie, Maria (Francesca's English teacher), and Andrea
3:00pm Lunch at Andrea's was, as always, very pleasant. Rosy and Francesca had to leave a little early as Francesca had an appointment to get a tattoo on her left forearm!! Rosy has 5 tats, so she is quite supportive of the idea. We think Andrea may not be as enthused, but the decision pretty much lies with Rosy and Francesca. When they left, we sat with Andrea for a bit but being unable to communicate makes it a little awkward, so we excused ourselves and came back to the apartment. Teddie says she needs to prepare a little for tonight and would like to catch a nap. Andrea offered to take me up Monte Labbro, but I had to regretfully decline as I feel I should stay with Teddie. And, I may even catch a nap myself.
Francesca gets a new tattoo
6:00pm Teddie was working on some stuff to bring to dinner so I went by and picked up Andrea and we drove over to the Rancho and walked its length down to the river. Water is flowing this year and the area looks good. Then we returned and now I am trying to cool off from the walk up the hill. Teddie is playing solitaire on her tablet computer.
11:35pm Back from Moreno's. As usual, it was a most pleasant evening with Moreno and Chiara. Vezio did not join us as he was having some discomfort with the corset. During the evening Andrea, Rosy, and Francesca came by to say goodbye and show us their new tattoos. They stayed for a while but then had to leave as they all must be at work/school tomorrow. Rosy and I earlier agreed to say, "See you tomorrow" instead of good-bye - a mutual white lie! We stayed and enjoyed a pleasant conversation with Moreno and Chiara for quite a while. They are all such special friends that we feel very fortunate.
Tonight/tomorrow---> tick check! I still remember the one I picked up on my last Italy trip!
9/19/14 8:05am Today we pack up and head for Rome as our first stage in leaving this wonderful country and returning home. We said our good-byes and need to clean the apartment and pack the car. When we are done, we will leave the keys with Eugenia and begin the drive to the Corsi Motel.
Leaving Roccalbegna
3:50pm We (finally) arrived at the Corsi a while ago. The drive down was easy and routine until we got very close to the motel. We took the exit, went through a toll booth, and then went around a tight right bend. Halfway through the turn we suddenly came to a fork with many arrow signs. I didn't have time to read them so I stayed in my lane and took the right-hand fork which proved to be the wrong one. We zigged, we zagged, we cursed - nothing worked! Finally we stopped on some obscure side road and looked again at the gps and it indicated we should turn around and go north. That got us back on track and to the motel. Now we're wrestling with a very flaky wifi system in an attempt to check email, etc. Worst wifi I've seen in a while. Car is gassed and ready to go in the morning. We meet Alberto here in 2 hours and will walk across the street for dinner. The flight boards at about 9am tomorrow so we will get up early and try to be on the way by 6:30.
9:35pm Alberto showed up around 5:15 this evening brought Florinda, Francesco, and Stefano. It was so great seeing them again! Stefano and Florinda haven't changed but Francesco is 2 feet taller than I remember him! We all had wine and/or ice cream in a lounge in the back of the hotel and later walked across the street and had a very pleasant dinner with lots of conversation about Roccalbegna, Italy, politics, past trips, and other topics - it was great! Now we are settling in for the evening and will try to leave for FCO by 6:30am.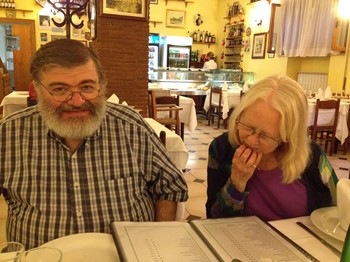 Alberto and Teddie examine the menu
9/20/14 10:30am We are finally on our way! We got up around 6:15am and hit the road at 6:40. Driving to the airport was easy, but finding the place to return the car was not so easy. We circled the terminal a couple of times and finally pulled into garage "C". After driving to the 5th floor and parking, I found that we needed to be in garage "B". Back to circling the terminal again! Finally found the right place and returned the car. Went inside Terminal 3 but the check in desks only went up to around #245 and we needed to be at #535. Went outside and caught the bus to Terminal 5 where we found #535. Checked in and gave our bag and then went through Q&A session ("Are you carrying for someone else", etc.). From there we went through security and finally through Passport Control. Then another bus to the G gates where we found G8 - our departure gate. It was quite the ordeal, complete with long corridors, broken escalators, and confusing signs. But now we're in the air and on our way. Ten hours to Newark!!
Already I miss our Italian friends.